HERAT -- Joint operations launched by Afghan National Defence and Security Forces (ANDSF) and NATO-led coalition forces have greatly reduced the Taliban's presence in Farah Province, officials say.
"The enemy had planned to block Highway 517, Route 1 and Abu Nasr Farahi Port in order to prevent the transfer of our commercial goods and commodities," said Gen. Nurullah Qaderi, commander of the 207th Zafar Corps of the Afghan National Army (ANA).
"We subsequently prepared joint plans with the help of the Resolute Support Mission and launched operations against the Taliban militants," he said, adding that the operations began November 17.
"We have witnessed extensive enemy casualties and were able to deal heavy blows to [the Taliban] in Bala Buluk, Khak-e-Safid, Anar Dara, Shib Kuh and Lash Juwin districts, as well as on the highways of Farah Province," he told Salaam Times January 3.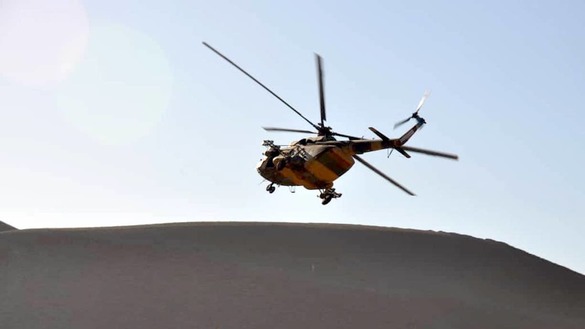 "Security has improved in Farah, but it is not enough," he said. "Our on-going operations will continue and expand in Pusht Rod District and on Highway 517."
Highway 517, which runs through several villages, has been cleared of the militants as well as Bala Buluk and Pusht Rod districts and parts of Anar Dara and Shib Kuh districts, Qaderi said.
"Our units have been deployed and are stationed in these areas with the support from the Resolute Support Mission forces," he said. "We are seeing favourable results."
"[Coalition] forces ... have participated and co-operated with our commandos in special operations, which have had a great and positive impact," he said. "We have been able to clear over 30 villages from the armed opposition."
Taliban hideouts destroyed
Over the past two months, dozens of Taliban commanders have been killed in Farah as well as in neighbouring provinces by air strikes carried out by both ANDSF and coalition forces.
"These air strikes are very effective," Qaderi said. "The enemy has taken heavy casualties in Shindand District, Herat Province, as well as in Badghis and Farah provinces."
"On Highway 1 in Farah, the Taliban had set up a makeshift customs station, extorting money from truck drivers under the pretext of collecting customs duties," he said. "Air strikes, however, resulted in the death of 36 of these militants engaged in extorting money from local residents."
"Seeing Afghan forces on the battlefield provides a morale boost to residents of Farah since they know that those are [the forces] who defend them," Farah provincial Governor Mohammad Shoaib Sabet told Salaam Times.
"The security situation is getting better every day, and the enemies of the people of Afghanistan have fled the battlefield," he said.
"Regional intelligence services are the ones who are planning the fight in Farah Province," said Dadullah Qani, a member of the Farah Provincial Council. "Some big [foreign] generals are behind this war, and hence, due attention must be paid to Farah."
"We [in the Provincial Council] have always told the truth, and the truth is that our border battalion fell and the Taliban's attacks on Farah city were extensive," he said, referring to the incident last November that sparked the surge in anti-Taliban operations.
"The intelligence agency of the neighbouring country is directly involved in this war, providing help to the armed Taliban militants," Gen. Fazl Ahmad Sherzad, former police chief of Farah Province, said November 10, referring to Iran.
"There is no doubt that intelligence agencies... play significant roles in the war in Afghanistan," he told Salaam Times.
Committed to peace in Afghanistan
Coalition ground and air forces have played a key role in targeting and defeating the Taliban militants since the start of the operation, security officials say.
"Since November 22, when the Resolute Support Mission forces started participating in the ground and air operations in Farah, about 250 Taliban militants have been killed, including dozens of their commanders," Farah provincial police chief Gen. Rahmatullah Sediqi told Salaam Times. "The operations have also dismantled hundreds of their land mines."
"I assure the population of Farah that all members of the security forces -- whether the ANA, Afghan National Police, National Directorate of Security or forces from the Resolute Support Mission -- are working towards achieving the interests and prosperity of our people," Col. Zakaria Mirzazada, commander of the Afghan National Army's 2nd Brigade in Farah Province, told Salaam Times.
"We will, therefore, pursue the militants wherever they might be so that the population of Farah can find comfort and tranquility in the absence of these terrorists," he said.
Gen. Austin Scott Miller, the top US and NATO commander in Afghanistan, visited Farah on December 22 to assess battlefield co-ordination between Afghan and coalition forces.
"We always support the people of Afghanistan, and we certainly support our security partners," he told reporters. "And as I have said many many times, the Afghan people have every right to be proud of their security forces for all the sacrifices they are making."
"We are here in Afghanistan to first and foremost to see peace, at some point, unity across Afghanistan and protect the national interest," he said.