HERAT -- Afghan security forces, backed by the NATO-led Resolute Support Mission, over the past few weeks have destroyed more than 76 drug factories run by the Taliban in targeted air attacks in Farah Province.
The air strikes demolished key facilities where drugs were stored and produced, according to provincial security authorities.
The most recent strikes took place May 6.
"As a result of a special air operation conducted in Bakwa District of Farah Province by the Resolute Support Mission and the Afghan National Army, more than 68 drug factories related to the Taliban terrorists have been destroyed," Mohibullah Mohib, a spokesman for the Farah provincial police, told Salaam Times.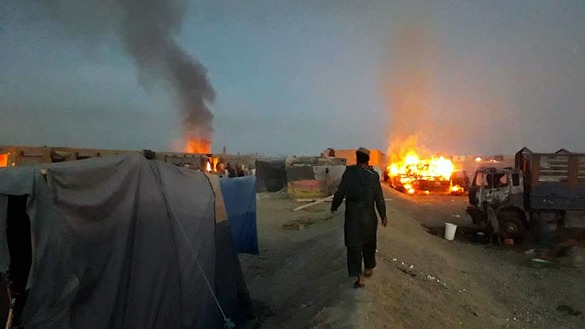 "During these air strikes conducted by the planes of the Resolute Support Mission, 150 Taliban terrorists, who were widely active in Farah Province, were killed and another 40 were seriously injured," he added.
In an earlier joint operation on April 27, coalition and Afghan forces wiped out eight narcotics factories run by the Taliban in Bakwa District, resulting in the destruction of more than 100 tonnes of narcotics, according to the 207th Zafar Corps of the Afghan National Army based in Herat Province.
"One of the main financing sources for the Taliban is narcotics, and drugs are one of the main causes of the war and its continuity in Afghanistan," Abdul Qader Kamel, a political analyst in Herat Province, told Salaam Times.
"The more drug factories we destroy, the weaker the Taliban war machine will become as this destruction drastically lowers the Taliban's revenues," he said.
"This issue could have an impact on strengthening the peace process and ensuring security," he said, adding that the campaign to destroy Taliban drug factories "must continue".
Taliban safeguard their drug business
Despite the recent strikes, the Taliban still run hundreds of drug factories in Farah Province, with most of them in Bakwa District, according to the Farah Provincial Council.
"The Taliban have so many drug production facilities in Bakwa District that turn out a variety of products," Abdul Samad Salehi, secretary for the Farah Provincial Council, told Salaam Times.
"The Taliban are putting effort into safeguarding their interests in the processing and production of narcotics," he added.
"Some of the members of this group are concerned that if peace comes to Afghanistan, they will lose... their drug factories," he said. "A number of the Taliban are worried about peace as it may put their drug interests at risk."
"The Taliban generate income from a variety of drugs produced in these facilities, in addition to benefiting from drug cultivation and trafficking," Salehi said. "They pay most of their war costs from this source; therefore, the Taliban have picked Bakwa District as their most important military and income-generating hub."