HERAT -- Afghan forces in a special operation on February 5 demolished a Taliban prison in Pashtun Zarghun District of Herat Province, releasing eight civilians who were detained there.
The Taliban used to beat, torture and even execute captured security personnel and civilians at this prison.
"Pushte Par village in Pashtun Zarghun District functioned as a base for Taliban planning sessions," Gen. Aminullah Amarkhil, Herat provincial police chief, told Salaam Times. "When we went there, we found a prison."
"We found instruments of torture such as whips and chains there, and 10 remote-controlled bombs," he said.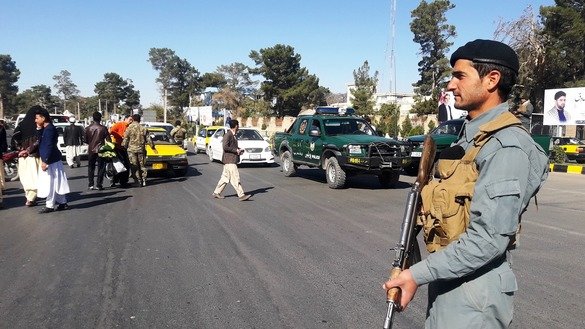 "It was a dark and frightening facility," said Amarkhil. "Security forces demolished it soon after they seized it."
"The Taliban used every form of torture on defenceless civilians and security personnel they captured," Jilani Farhad, the Herat governor's spokesperson, told Salaam Times.
The Afghan National Defence and Security Forces (ANDSF) will "never allow the Taliban to operate a prison and torture civilians and security personnel", said Farhad.
On January 13, ANA commandos and US special forces destroyed a Taliban prison in Badghis Province during a special operation. During the operation, 22 Taliban members including two notorious commanders were killed.
"The Taliban used to transport civilians and security personnel .... to their prison in Jawand District and torture them there," Gen. Nurullah Qaderi, commander of the army's 207th Zafar Corps, told Salaam Times. "The ANDSF rescued innocent prisoners from the Taliban's atrocities in Badghis."
Clearing Herat–Badghis highway of Taliban
ANDSF in a February 4 operation cleared the Herat–Badghis Highway of the Taliban.
The operation ended a six-month-long closure of the highway to civilian and ANDSF traffic.
"There were widespread threats [from the Taliban] to lives and property and to truck cargoes along the Herat–Badghis Highway," Gen. Muhammad Ibrahim Fazaly, commander of the 3rd Brigade of the ANA in Badghis Province, told Salaam Times. "Our supply convoys were also threatened en route. This is a vital route for the population of Badghis."
"We are determined to fulfill our responsibilities toward Afghans in ensuring security for lives and property along this route," he added.
Creating security checkpoints
"ANDSF, including the ANA, national police, National Directorate of Security and heroic commando forces, were able to open this highway," Shiraqa Alkozai, chief of intelligence for Badghis provincial police, told Salaam Times.
"We will create joint security checkpoints, police checkpoints and military checkpoints along the highway where we need them," added Alkozai.
"ANDSF were deployed in areas threatened [by the Taliban], and they were able to bring the situation under their control," Capt. Rohullah Mubariz, an ANA commando officer in Badghis Province, told Salaam Times. "These forces clearly proved that the Taliban cannot face them on the battlefield. We're very happy to rescue the poor civilians in the area whose homes were looted by the Taliban and who suffered torture."
"The enemy has lost its ability to fight with us face to face," Capt. Abdul Ahad, another ANA commando officer in the province, told Salaam Times. "In places where the Taliban tried to resist, we hit them very hard."
"This is a vital highway for the government and public, and we are very pleased that we were able to reopen this highway," Capt. Yasin Haideri, a third Badghis-based ANA commando officer, told Salaam Times. "Now, civilians can comfortably travel along this route."