BAGHOUZ, Syria -- Members of the international coalition fighting the "Islamic State of Iraq and Syria" (ISIS) are debating the fate of thousands of captured fighters in Syria following the end of the terror group's so-called "caliphate".
Fighters of the US-backed Syrian Democratic Forces (SDF) raised their yellow flag in Baghouz Saturday (March 23), the remote riverside village where holdout fighters of a variety of nationalities made a futile last stand.
The Kurds Monday (March 25) called for an international court to be set up in the country to try suspected ISIS members.
"We call on the international community to establish a special international tribunal in northeast Syria to prosecute terrorists," the Syria Kurdish administration said.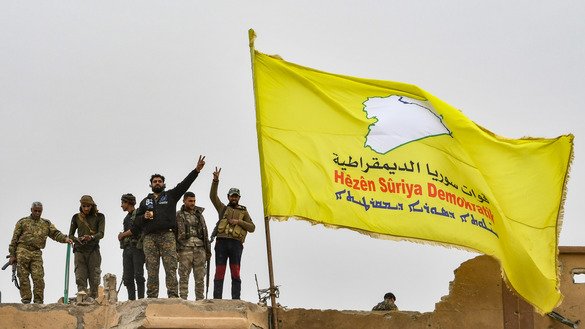 In this way, "trials can be conducted fairly and in accordance with international law and human rights covenants and charters", it said in a statement.
The United States, however, said Monday it was not looking at an international court to try ISIS extremists and urged countries to repatriate them.
The "priority is to pressure countries to take back their own citizens who may or may not have committed crimes," James Jeffrey, the US special representative on Syria, told reporters in Washington.
"If they put the effort into it, they can deal with it," he said.
Regardless of the current differences, the goal of the allies is the same: to see ISIS fighters pay for the crimes.
Thousands of prisoners
ISIS imposed its brutal interpretation of Islam on millions living in the proto-state that it declared across a large swathe of Syria and neighbouring Iraq in 2014.
The extremists stand accused of numerous crimes including mass executions, kidnappings and rape.
The SDF has detained thousands of suspected ISIS fighters in more than four years battling the jihadists, including about 1,000 foreigners.
While alleged ISIS fighters are held in jail, women and children suspected of affiliation with the group are housed in Kurdish-run camps for the displaced.
More than 9,000 foreigners, including more than 6,500 children, are being held in the overcrowded main camp of Al-Hol, Kurdish spokesman Luqman Ahmi said Monday, citing figures from a week ago.