KABUL -- Humanitarian groups were reeling Thursday (May 9) from yet another attack targeting aid workers in Afghanistan as officials confirmed the death toll from yesterday's Kabul assault rose to nine.
The violence Wednesday (May 8) outside Counterpart International, a non-profit group working with marginalised Afghans, began with an immense blast from a car bomb in central Kabul.
Five members of the Afghan security forces, a guard at Counterpoint and three civilians were among those killed, said Interior Ministry spokesman Nasrat Rahimi.
Anti-poverty group CARE, which has offices close to Counterpart International, said three of its workers -- a driver, a watchman and a technical adviser -- were killed.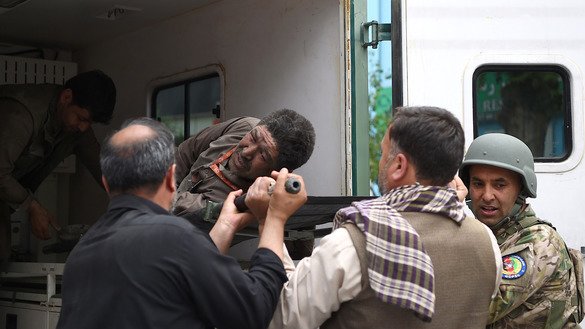 "This attack reflects the increasing dangers of humanitarian work in conflict-affected countries such as Afghanistan and the unfortunate daily reality of violence for many Afghan families," CARE said in a statement.
In addition, 20 civilians were wounded. Several Taliban gunmen who stormed the Counterpart compound after the explosion were all killed after Afghan commandos led an hours-long clearance operation.
Aid organisations curb presence in country
The Taliban claimed responsibility, saying Counterpart International was targeted because it promoted the "inter-mixing" of men and women.
"Today's attack was an attack on innocent civilians, development professionals who dedicate their lives to improving the lives of Afghanistan's most vulnerable, including women, youth, and the disabled. We are grateful for their tremendous service to people in need, especially in dire circumstances like today's," Ann Hudock, president and chief executive officer of Counterpart International, said in a statement Wednesday.
"The Taliban embody crime, which is not amenable to peaceful conflict-resolution initiatives. They misinterpret our goodwill as weakness and misuse peace negotiations to seek legitimacy for heinous crimes of the sort they committed yesterday" in Kabul," Afghan Chief Executive Abdullah Abdullah said in a tweet on Thursday.
According to the United Nations Office for the Co-ordination of Humanitarian Affairs, 30 aid workers were killed last year in Afghanistan -- one of the most dangerous countries for humanitarians.
Afghanistan was once a hub of foreign aid, but deteriorating security has seen international groups downgrade their presence, making it even more difficult to deliver crucial help to the war-torn country's most vulnerable citizens.
Several aid groups, including Save the Children, have been the target of terrorist acts and have suspended operations in the wake of the assaults.
The Taliban has in the past tried to intimidate some groups into ceasing aid to Afghans. The militants in April faced backlash for demanding that the International Committee of the Red Cross and the World Health Organisation cease operating in Afghanistan.