KABUL -- The Taliban's so-called "Al-Fatah" spring offensive, which has largely been ineffective in gaining ground or any significant advantage over government forces, has led only to significant civilian casualties, officials say.
"Unfortunately, in the last two months, more than 700 civilians have been killed or injured in Afghanistan with most of the casualties in Kabul, Nangarhar and Kandahar provinces," said Aziz Ahmad Tasal, a civil society activist and a member of a group that records data on civilian casualties in Afghanistan.
"Most of the civilians lost their lives to roadside IEDs [improvised explosive devices] and suicide attacks" by the Taliban, he said.
The latest casualties are part of an upward trend in civilian casualties that has drawn concern from the United Nations Assistance Mission in Afghanistan (UNAMA) and Afghanistan Independent Human Rights Commission (AIHRC).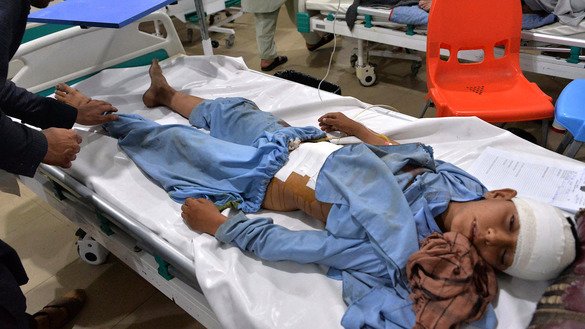 The AIHRC's 2018 report "shows an increase in civilian casualties," said Musa Mahmoodi, the AIHRC's operations director, adding, "the targeted killings of civilians are unjustifiable and are considered war crimes."
According to the report, 3,032 people were killed and 8,180 injured in the conflict between March 21, 2018, and March 20, 2019.
UNAMA is investigating recent attacks on civilians, the mission said in a statement on May 25.
"Deliberate and indiscriminate attacks against civilians can never be justified and amount to war crimes," UNAMA head Tadamichi Yamamoto said in the statement.
"An attack in a mosque, especially at a time of prayer during Ramadan, is particularly heinous," said Yamamoto, referring to the bombing of a Kabul mosque May 24.
Civilian targets
"The Taliban's Al-Fatah spring offensive has faced defeat, and the group hasn't been able to capture a tiny part of Afghanistan," acting Defence Minister Asadullah Khalid said at a military ceremony in Kabul on May 25.
"Recently, the Taliban have seen huge defeats and suffered heavy casualties," he said.
"All or most of the recent victims of anti-government groups were civilians," said Mehdi Mubasher, a civil society activist and the director of the Harakat-e-Shaharwandi Co. in Kabul.
He highlighted the mosque bombing on May 24, adding that it killed Mawlawi Samiullah Rehan, the imam of the mosque, and a number of worshippers.
An attack on Counterpart International, a non-profit group working with marginalised Afghans, on May 8 in Kabul "was also a terrorist attack because most of the victims were civilians," said Mubasher.
Such atrocities have not been not uncommon as the Taliban continue to commit violence during the holy month of Ramadan.
The Taliban claimed responsibility for the car bombing Friday (May 31) of a US military convoy in Kabul, killing four Afghans who were in the vicinity, AFP reported. Four US service members suffered minor injuries.
On May 11, a land mine planted by the Taliban killed seven children and wounded two others in Ghazni Province as they were playing near a main road.
"Ramadan is a holy month of prayers, worship and peace, but unfortunately, the Taliban and other terrorists target our defenceless people ... in this month," said Zabihullah Raoufi, a 28-year-old resident of Kabul city and a law student at a private university in Kabul.
"This morning [May 27], terrorists attacked a bus that was transporting the personnel of the Hajj and Religious Affairs Ministry, killing 10 civilians," he noted.
Demanding a ceasefire
The families of such victims are demanding that the Taliban observe a ceasefire and end their war.
"I have lived a miserable life without my father, and I can never forget my young sister's memory," said Yasar Qabadian, an Afghan who lost his father 15 years ago after an explosion in Farah.
His sister was killed in a suicide bombing of the Mawoud education centre in Kabul last August that killed almost 50 Afghans and wounded more than 50 others.
"We seek justice, and we're fed up with war. We look forward to a ceasefire and peace," he said.