KANDAHAR -- Security officials found an Iranian-made rocket in police district no. 7 of Kandahar city, providing further evidence Tehran is continuing to flood the Taliban with weapons in a bid to sabotage the peace process.
Maj. Gen. Tadeen Khan Achakzai, the provincial chief of police, confirmed the discovery in a tweet on May 21.
"Brave soldiers of the 7th police district of Kandahar city discovered a rocket equipped with new technology which had the power of vast destruction," Achakzai said.
"The rocket is made in Iran," he said.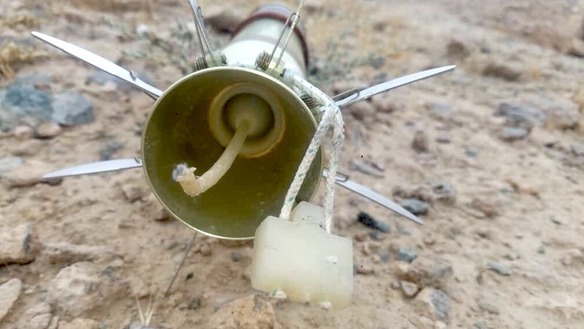 Abdul Hanan Munib, the deputy provincial governor of Kandahar, confirmed the discovery of the Iranian-made rocket. Security forces have launched an investigation, he said.
Iran's military support of Taliban
Afghan analysts and former military officers have said that the Iranian regime -- along with Russia -- has been supplying the Taliban with weapons and equipment in order to intensify the militants' war with the Afghan government and to sabotage the peace process.
Muhammad Karim Atal, a member of the Wolesi Jirga from Helmand Province, said that he has already shared his concerns with Kabul about the involvement of Tehran in Afghanistan's fight with militants.
"Undoubtedly, we have seen signs of intervention by the Iranian government or by those who want to create chaos in Afghanistan -- and Helmand is an example," said Atal, who served as chairman of the Helmand Provincial Council four years ago.
In the districts of Khanashin and Dishu, "the national army and police forces have seized rockets, light and heavy weapons as well as missiles -- which had Iranian marks on them," he said.
"We had concerns [about Iranian involvement] at that time as well," Atal said. "We have shared them with the central government."
"Three years ago, the Taliban's leader, Mullah Akhtar Muhammad Mansoor, was on his way from Iran to Pakistan when he was killed," Atal said. "These are signs of Iran's outright intervention in Afghanistan's affairs."
"This has been going on since long before, but now its interference has increased compared with the past," he said.
Supplying militants
Haji Atta Jan Haqbayan, chairman of the Zabul Provincial Council, expressed his own concern over the Iranian regime's interference. The Afghan government should discuss this issue with Iranian officials through diplomatic channels, he said.
This year, countries including Iran and Russia "have provided equipment to the Taliban that they're taking advantage of", he said. "Rockets and other kinds of land mines that are made in Iran" are among the weapons they use.
Interference by the Iranian regime "has increased this year", he said.
Iran is providing weapons to insurgents in the country, agreed Masoud Bakhtawar, a political affairs analyst based in Farah Province.
"Weapons made in Iran were discovered three times in Shorab," said Bakhtawar, who previously worked as deputy governor of Helmand and Zabul provinces.
"There is no doubt of Iran's interference in Afghanistan."