LONDON -- Russia's Sputnik and RT news organisations were barred from a global conference on media freedom in London because of their "active role in spreading disinformation".
Some 60 ministers and 1,000 journalists and members of civil society attended the meeting Wednesday-Thursday (July 10-11) co-hosted with Canada.
"We have not accredited RT or Sputnik because of their active role in spreading disinformation," a British Foreign Office spokeswoman said.
"While it's not possible to accommodate all requests for accreditation, journalists from across the world's media are attending the conference, including from Russia."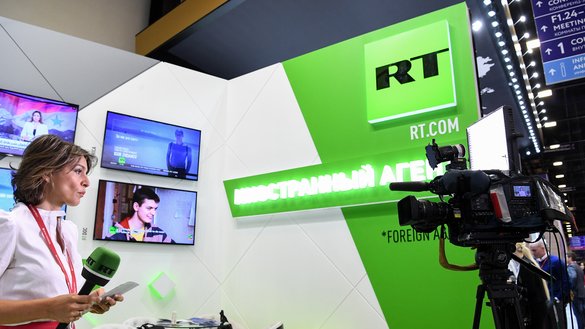 Organisers of the London conference say it is intended to increase international discussion and co-operation on the issue of media freedom, including fake news.
Long history of falsehoods
Russian media outlets such as Sputnik and RT have a track record of publishing fake news and disinformation.
In Afghanistan, officials and media observers say Russian media outlets are spreading lies and distortions in an attempt to sow chaos in their country.
Amrullah Saleh, former chief of Afghanistan's National Directorate of Security (NDS) and current running mate of Afghan President Ashraf Ghani, said last year that Sputnik Afghanistan is "largely fake news, lies, propaganda and speculations" after the outlet published false news about Saleh.
Other Afghan officials and media observers have said that the Russian media outlet publishes "news" with no regard for journalistic principles such as integrity and accuracy.
According to a 2016 study by the RAND Corporation, RT and Sputnik are "more like a blend of infotainment and disinformation than fact-checked journalism, though their formats intentionally take the appearance of proper news programmes".
Russian media reports have even gone so far as to carry fake interviews with actors to paint a picture favourable to the Kremlin.
One of Russia's most brazen attempts at propaganda involved spreading false information regarding the chemical weapon attack in Syria in April 2018 to help protect the Kremlin-backed Syrian regime.
The Kremlin's disinformation campaigns have also extended to social media.
In April 2018, Facebook removed hundreds of Facebook and Instagram accounts connected to a Russian "troll factory" accused of attempting to influence public opinion around the world.
In January, Facebook removed more than 500 pages, groups and accounts originating in Russia for engaging in malign influence operations in Kazakhstan, Kyrgyzstan, Uzbekistan and Tajikistan.
This past March, Facebook removed another 2,600 pages, groups and accounts it said engaged in co-ordinated malign influence on Facebook and Instagram.
Almost 2,000 of these Facebook pages, groups and accounts were linked to Russia, according to Nathaniel Gleicher, head of Facebook's cybersecurity policy, at the time.