BAMIYAN -- Band-e-Amir, Afghanistan's first national park, is among sites in Bamiyan Province attracting thousands of domestic tourists amid improved security.
Band-e-Amir, which the government declared a national park in 2009, is situated near the Bamiyan Valley, where the Taliban destroyed two ancient Buddha statues in 2001 with explosives in an act of cultural genocide.
Now, tourists who have come to visit historic sites in Bamiyan Province say that they are happy to see reliable security in the region.
"I spent two days in Band-e-Amir, where I didn't feel any insecurity," said Noor Rahman Mirzaee, 22, a resident of Kabul Province. "Security is really good in this province. If you live by Band-e-Amir, it is just like you live in a peaceful and secure country -- not a war-torn country."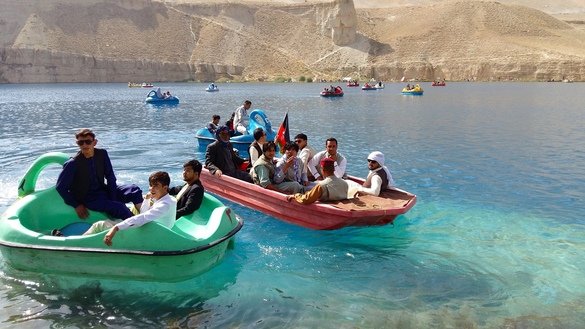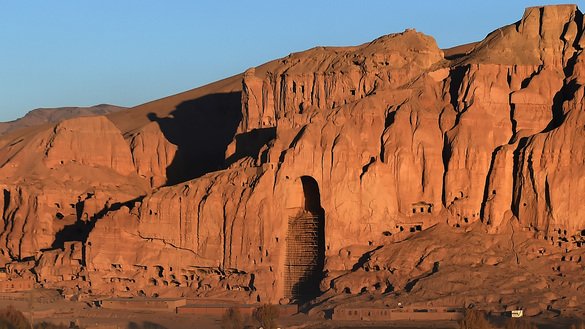 Keeping the area clear of terrorist groups has been key in attracting tourists, said Gen. Sadeq Muradi, Bamiyan's police chief.
"Security and stability are fully ensured in Bamiyan Province," he said in an interview. "The Taliban and other terrorist groups don't have any presence or activities in the province, and the people of Bamiyan are providing great support to their security forces."
"We have reliable security, stability and peace in all seven districts and in the provincial capital of Bamiyan, and this paves the way for thousands of tourists from across Afghanistan to visit the province's historic sites and have a good time," Muradi said.
"Thanks to improved security and peace, the number of tourists visiting the province in the past few years has increased," he said. "This number has risen to the extent that many tourists can't find rooms in Bamiyan hotels, and they end up sleeping in camps or under trees."
"During the Eid holidays, close to 100,000 tourists including women and families came from various provinces in the east, south, west and north of Afghanistan to visit the historical sites and natural landscapes of Band-e-Amir," Bamiyan Governor Mohammad Tahir Zahir said in an interview.
"This was an unprecedented surge of tourists in the history of Bamiyan Province," he said.
Swimming, sightseeing
"Thousands of historic monuments such as the statues of the Bamiyan Buddhas, pristine and natural landscapes -- especially Band-e-Amir -- and security in the province have collectively attracted national and international tourists to visit Bamiyan," Zahir said.
Thanks to the abundance of tourist attractions in the province, the South Asian Association for Regional Co-operation declared Bamiyan city its cultural capital for 2015, according to Zahir.
"We have well-thought-out plans for expanding tourism in Bamiyan Province, and we also ask national and international businesses to invest in building tourism capacity in the province," he said.
Band-e-Amir is a great site for sightseeing and entertainment far from violence and terrorists, said a number of tourists who travelled tens and even hundreds of kilometres to reach Bamiyan.
"We have been fed up with the war, suicide attacks and explosions," said Aziz Isaqzai, a resident of Kandahar Province visiting Band-e-Amir.
"I decided to spend our Eid days with my kids and nephews in Band-e-Amir -- far from the war and violence. Our first day of Eid went really well. We visited the lakes; we swam and had a good time."
"I am very happy that there is a recreational site like Band-e-Amir in our country," he said.
"There are huge crowds in Band-e-Amir," said Isaqzai, 45. "We hope the authorities can build more recreational facilities for visitors from faraway places."
"I heard about the beauty of Band-e-Amir, but I hadn't seen it up close," said a resident of Balkh Province and a student at a private university in Mazar-e-Sharif who identified herself only as Saameha.
"Band-e-Amir has beautiful tourist attractions. We have had a really good time here so far. We canoed and took photos, and men swam [in the lake]."
Boom in business
The surge in tourists to Band-e-Amir has contributed to improving the local economy as well as the livelihoods of Bamiyan residents.
"Bamiyan is enjoying better security than do other provinces," said Muhammad Rajab, 56, a resident of Bamiyan and a store owner in Band-e-Amir.
His business has grown with the increase in tourism, he said.
"Those who come to Band-e-Amir for sightseeing buy stuff from us, and we have made a very good income from our stores," he said, referring to local storekeepers in general. "Our livelihoods and economy have improved compared to a few years back," he said.
"Tourism is the most lucrative industry after the oil industry in the world as countries earn billions of dollars from this sector," said Shabir Bashir, an economist in Kabul.
"Tourism plays a key role in the economic growth of countries, and fortunately Afghanistan is one of the countries with a multitude of tourism attractions."
"If the government builds standard facilities for foreign tourists, we'll witness improvements and economic growth in Bamiyan and Afghanistan in general," he said.