KUNDUZ -- Kunduz city residents, already mourning the killing of fellow citizens after a recent offensive by the Taliban, are facing miserable living conditions due to the attack.
The Taliban on August 31 stormed Kunduz city from four directions in a bid to take control of the area. They faced tough resistance from Afghan forces, and as a result the militants suffered heavy casualties.
Kunduz Regional Hospital received six dead bodies and 75 wounded civilians as a result of the fighting, said Marzia Salam Yaftali, director at Kunduz Regional Hospital.
The security situation had returned to normal in the city and no threats to residents remained, said Afghan authorities Monday (September 9).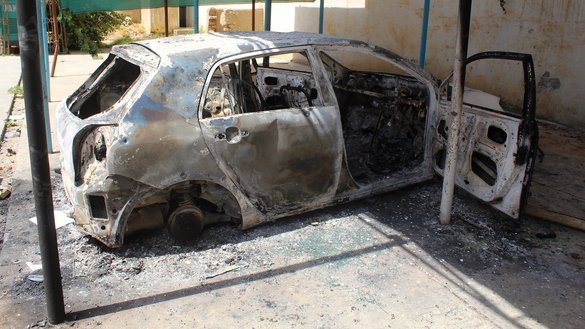 "During the ground and air attacks conducted by the security and defence forces, more than 60 Taliban fighters -- including their key leaders -- were killed and tens of them injured," said Esmatullah Muradi, a spokesperson for the Kunduz governor.
"The air strikes on the group's safe havens have caused the Taliban heavy casualties," Muradi said. "The Taliban's goal is to kill and ruin the public, and every time they have attacked Kunduz city, they have inflicted damage, mostly on civilians."
Joint Afghan forces are planning an operation against the Taliban in Kunduz city and in districts of the province, said Abdul Hadi Jamal, a deputy spokesperson for the 217th Pamir Corps of the Afghan National Army in Kunduz Province.
Impact on food costs, basic services
The impact of the deadly Taliban incursion is far reaching, making life miserable for local inhabitants as authorities reduce basic services and as the cost of goods soars, said residents of Kunduz city.
"The fighting has had an impact even on [taxi] fares," said Abdul Saboor [no last name], a civil servant in Kunduz Province. "A taxi that charged 200 AFN ($2.55) in the past from Kunduz to Takhar now asks for 500 AFN ($6.39). Prices for food also have surged."
The Taliban's attack not only inflicted casualties on civilians but weakened the delivery of basic services, said Muhammad Badal Rajabzada, a resident of Kunduz city.
Water supply, electricity and telephone services have become unstable in Kunduz city, while at the same time locals are living under the threat of being killed by the Taliban, he said.
"A loaf of bread that previously cost 15 AFN ($0.19) has now increased to 50 AFN ($0.64), if you can find it," he said. "For God's sake, how long will the war and misery continue? We saw women and children running barefoot toward the shelters."
Abdul Rahim, a labourer in Kunduz who declined to give his last name, said that he has not been able to find work because of the fighting.
"I am a labourer, and I go to the central square of Kunduz city every day to find work," he said. "This is the second day that no one has given me any work."
"The price of a loaf of bread has increased to 50 AFN," he added. "Where can the poor earn money with which to buy bread and other food items they need?"
"May God annihilate you, because you have made the poor like us unfortunate and wretched," he said, referring to the Taliban.
Mobile-phones services "have been cut for two days now, and we have no electricity and water," said Razia Omari, 25, a student at Kunduz University. "For God's sake, what a miserable situation the population of Kunduz is facing."
Displacement of families
More than 4,000 families had to leave their homes because of recent fighting in Kunduz Province, according to the Kunduz Department of Refugees and Repatriations.
Among those families, 1,000 were displaced to neighbouring provinces, while another 3,000 fled to more-secure areas and districts of Kunduz Province.
More than 2,000 of those families returned home in the 24 hours after Afghan security forces repelled the Taliban attack and restored security in the city, said Ghulam Sakhi Rasooli, director of the Kunduz Department of Refugees and Repatriations.
"Our survey to identify the war-affected families has begun, and when it is completed, these families will receive assistance," Rasooli said.
Muhammad Saber Akbari, 45, a businessman who left Kunduz city for Kabul on August 31, said he could not reach his destination because of more fighting in Baghlan Province. He had to return to Kunduz city.
"I left with a great deal of hardship for Kabul, but the wild group [the Taliban] attacked Pul-i-Khumri [on our way]," he said.
"When we made it to the Kilagi area near Pul-i-Khumri ... we saw that hundreds of passenger vehicles were stopped by fighting between the Taliban and government forces," Akbari added.
"We waited for 24 hours in the area expecting the road would reopen," he said. "When the road didn't reopen, we had to return to Kunduz city along with our families."
Sayed Ahmad Qaderi, a 34-year-old civil society activist in Baghlan Province, also witnessed the impact of fighting in the area.
"After the Taliban were defeated in Kunduz city, they attacked the centre of Pul-i-Khumri from the Band-e-Dowom area," he said. "The conflict continued for three days in various parts of Pul-i-Khumri. It blocked the [main] transport route of nine northern and northeastern provinces."
"I saw two sick children, five and nine years old, lose their lives because of the blockage of the road," he said, meaning the children could not receive the medical care that would have saved them.
The route is now open to traffic, said Ahmad Jawed Basharat, a spokesman for the Kunduz police.
"Sufficient reinforcements have reached Baghlan Province from Kabul, and they plan to launch a huge operation to sweep and search the affected areas," Basharat said.