KARACHI -- The arrest of four suspected members of a local al-Qaeda offshoot in Karachi, Pakistan, is being hailed as a major success as authorities in Afghanistan and Pakistan continue operations to squash terrorists' efforts to regroup.
Karachi Police's Special Investigation Unit (SIU) and federal intelligence agencies carried out a joint raid on April 19 in the Gulistan-e-Johar neighbourhood, arresting four militants belonging to al-Qaeda in the Indian Subcontinent (AQIS), said SIU Senior Superintendent Irfan Bahadur.
"The arrested militants were identified as Muhammed Umer, Muhammed Bilal (alias Fida), Muhammed Waseem and Muhammed Amir," he said, adding that all four had undergone training in Afghanistan.
The arrested militants had conducted reconnaissance on certain sensitive locations for future attacks, including the Pakistan Stock Exchange, City Courts, and the Police Training Centre, he said.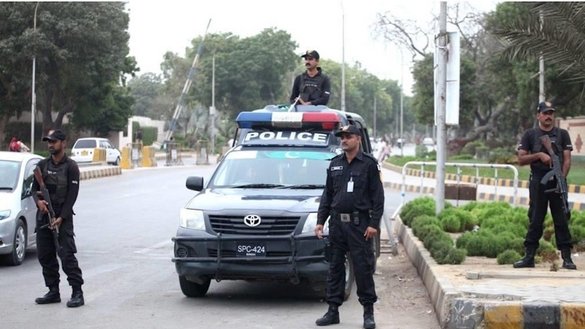 "Police seized the weapon cache they had stockpiled to carry out terrorist attacks in the metropolis," he said.
AQIS on steady decline
Pakistan's crackdown on militancy and terrorism have greatly degraded AQIS's presence in the country.
The killing of AQIS chief Asim Umar in Afghanistan last September 23 was considered a major blow to the terrorist group in the region.
Umar had led AQIS from its inception in 2014.
The National Directorate of Security (NDS) last October 8 confirmed Umar's death on Twitter, adding that among six other AQIS members killed in the raid was a man identified as a courier for al-Qaeda leader Ayman al-Zawahiri.
"Muhammad Hanif, alias Zarar, was made new chief of AQIS after Umar's killing," Bahadur said.
Hanif, who now lives in Afghanistan, is originally from Karachi and was one of the founders of the AQIS network when he was in the city, he said.
Soon after the group's formation, AQIS became active in Pakistan and several local militant outfits that had an ideological association with al-Qaeda also pledged allegiance to AQIS.
Just months after its formation, AQIS attempted to hijack a Pakistani navy frigate in Karachi in September 2014. The attack killed 10 paramilitary personnel and wounded 15, while two attackers were killed in the ensuing fighting, and a third blew himself up.
Over the past two years, law enforcement agencies have continued to crack down on AQIS, shattering its network.
In November 2018, Karachi Police arrested suspected AQIS leader and close al-Zawahiri aide Umar Jalal Chandio alias Khatio in the Gulshan-e-Iqbal area. He is still in custody.
The Punjab Police Counter Terrorism Department (CTD) last December busted an AQIS media cell in Gujranwala, arresting five men suspected to be important members of the terrorist group.
The CTD seized a large quantity of media equipment, funds, suicide jackets, explosives, and arms in the terrorists' possession.
Al-Qaeda in Afghanistan
After the launch of counter-insurgency Operation Zarb-e-Azb in Pakistan in 2014, most AQIS militants fled to Afghanistan, where the Taliban have long sheltered al-Qaeda leaders.
The Taliban and the United States signed a peace agreement in February in Qatar based on which the Taliban are required to cut ties with international terrorist groups, including Al Qaeda, and prevent any group or individual from using Afghan soil to threaten the security of the United States and its allies.
The Taliban have yet to denounce al-Qaeda publicly.
In March 2019, a military operation in Gero District, Ghazni Province, killed more than 30 AQIS militants, including several would-be suicide bombers.
Last November and before the Taliban-US deal, Gen. (ret.) David Petraeus, a former director of the US Central Intelligence Agency (CIA) and former commander of US Central Command, warned that ties between the Taliban and Al Qaeda remain strong.
"As long as the group denies the facts about past acts of terrorism hatched under its aegis, it is impossible to take seriously its assurances about preventing future ones," Petraeus and Vance Serchuk, a senior fellow at the Washington-based Centre for a New American Security, wrote in an article published last year in November in the Washington Post.