KABUL -- The Afghan government has despatched a technical team to Qatar to prepare for long-delayed peace talks as authorities pressed ahead with the release of Taliban inmates, officials said Wednesday (September 2).
Kabul broke an impasse with the insurgent group on Monday (August 31) by resuming a protracted prisoner exchange, a key hurdle blocking the two warring sides from launching negotiations in Doha.
A small technical team has gone to Doha to prepare for starting the peace talks, Najia Anwari, a spokeswoman for the State Ministry for Peace, told AFP.
"They are there for logistical preparations," she said.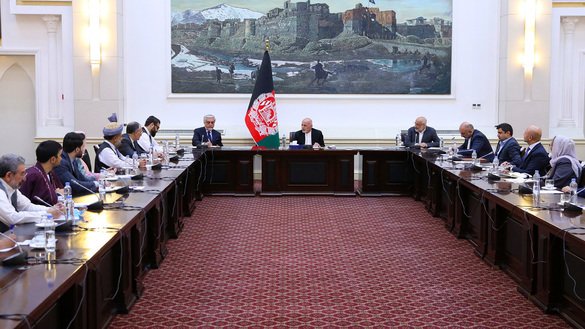 "These efforts have put us closer than ever to the start of direct talks," she told AFP.
Kabul's team of negotiators will leave for Doha "very soon", she said.
President Ashraf Ghani September 2 met with the Afghan negotiating team at the presidential palace in Kabul.
"The government has fulfilled all its obligations in the peace process that the international community expected. The release of prisoners is a clear demonstration of the government's commitment to peace," Ghani said in a statement released by the Afghan presidential palace.
'Closer than ever'
Negotiations were initially supposed to begin in March but were repeatedly pushed back as the Taliban and the Afghan government squabbled over the prisoner exchange, which included freeing hundreds of battle-hardened insurgents.
Kabul had balked at the release of the final 400 Taliban inmates, whom Ghani called "a danger to the world".
Their release encountered opposition from Paris and Canberra because those on the list included militants tied to the killing of French and Australian civilians and troops in Afghanistan.
It is not known if those militants have been released.
The Taliban have said they are willing to begin peace talks "within a week" of the prisoner exchange being completed and blamed Kabul for delaying the negotiations so far.
At least 200 prisoners have been released since August 31 and the process "will continue today too", a senior government official told AFP September 2 on condition of anonymity.
Afghanistan's High Council for National Reconciliation, the body leading the peace process, confirmed the ongoing release.
"All obstacles have been removed," said spokesman Faraidoon Khwazoon. "The prisoners' exchange will be completed soon."
"Our prisoners have been released, and we see this as a positive step that paves the ground for the start of intra-Afghan talks," Taliban spokesman Suhail Shaheen told AFP.
In return for their prisoners, the militants had released four Afghan commandos who had been held captive and will free two more soon, he said.