HERAT -- China has intensified its efforts to gain control of Afghanistan's mines and underground resources in recent years.
Over the past two years, more than 500 Chinese investors have come to Afghanistan to invest in Afghanistan's mines, and around 100 Chinese companies have registered themselves with the Ministry of Mines and Petroleum to invest in the country's mining sector.
But such investment benefits Beijing while leaving Afghanistan with very little, analysts say.
A Chinese state-owned company won the Amu Darya oil and gas contract in Sar-e-Pul province in July and has started extraction.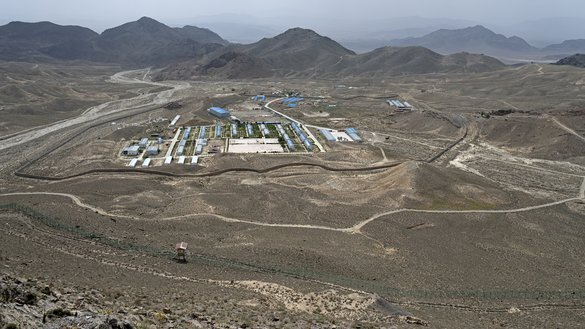 Another Chinese company is trying to win the rights to extract precious lithium from Afghanistan's mines. The Chinese are also after total access to the Mes Aynak copper mines in Logar province.
Lithium and copper are widely used in the automotive, battery and cell phone industries.
"China has stepped in ... to make the most profit out of Afghanistan's mines. By making small investments, China will make large profits," said Nader Azim, a political analyst in Herat.
"Chinese investment in Afghanistan's mines won't help its economy -- it will also cause environmental problems," he said. "In the present vacuum, China is trying to take over most of Afghanistan's valuable mines."
With no competition, China is landing single-source contracts to extract Afghanistan's mines, Azim said, adding that Beijing is making the most out of the situation.
While mines belong to the people of Afghanistan, in the current situation, they do not receive any profit from the extraction of minerals, said Din Mohammad, a tribal elder in Badghis province.
"Instead of helping Afghans in the current difficult situation, China has turned to looting our mines," he said.
"Mining contracts with China must be transparent and information should be shared with the people, but ... these contracts are done mostly in secret," he added. "Mines are national wealth that belongs to everyone. Any kind of unfair mining deal is a national betrayal."
Plundering of mines continues
The secret extraction of precious resources from Afghanistan's mines is ongoing in some provinces, say witnesses.
Dozens of trucks loaded with minerals extracted in Khaneshen and Desho districts of Helmand province first go to Pakistan and are then moved to China, a resident of Helmand told Salaam Times on the condition of anonymity.
The two districts have lithium and marble deposits.
"I have seen Chinese nationals several times extracting minerals in Helmand," he said. "People are not allowed to photograph the sites."
"There were a few small-scale mining activities in the past, but they have surged in recent months," he added. "Large trucks are loaded in mines and driven through deserts and remote areas. Machines have been brought for mining activities, which work around the clock."
Illegal mining is not limited to Helmand province.
Residents of Kunar province have also reported widespread extraction from mines, and the yields are then moved out of the country.
These include gemstone mines in Chapa Dara and Manogai district that contain tourmaline, kunzite, crystal, morganite and other minerals.
Chinese engineers are involved in the extraction of minerals and precious stones are transported abroad by car daily, said Sahib Khan, a resident of Manogai district.
"In the past, there were small-scale mining activities of precious stones by the locals, but lately local power brokers have taken over these mines and extract precious stones with the co-operation of Chinese experts," he said.
"These stones are very precious and do not have a market in Afghanistan ... the Chinese move these stones via Pakistan to China. Extraction is done in total secrecy, and the public is not allowed to go to the mining sites."
Residents used to earn a small income from the extraction of precious stones, but in the past year they have received nothing, Khan said.
Hindering Afghanistan's development
Investing in mines and providing loans with unclear terms to Afghanistan are China's way of trying to establish control over the country, observers say.
By offering expensive loans to Afghanistan, the government of China wants to repeat the experience of some African countries, said Sayed Ashraf Saadat, an Afghan civil society activist based in Sweden.
"By giving expensive loans to some African countries, China has brought them completely under its control," he said. "China's goal is to subjugate weak governments by giving them big loans to benefit from their mines and natural resources."
"By investing in the mining sector, China wants to expand its influence in Afghanistan," he said. "China wants to show to the world that it has control over Afghanistan and can easily access the rich minerals of the country."
But Chinese investments and loans will prevent Afghanistan from growth and development, warned Saadat.
China relies heavily on raw materials and will try to gain access to Afghanistan's wealth of minerals at any cost, said Mohammad Rafi Hamidi, a Herat-based economist.
"In terms of minerals, Afghanistan is a suitable opportunity for China. With very little cost, it easily extracts valuable minerals," he said. "Because of its proximity to Afghanistan, [China] can easily transport minerals back to China."
"Unfortunately, China does not adhere to international standards in its mining contracts in Afghanistan," Hamidi said. "These contracts are very basic and one-sided. As a result of which, Afghanistan receives very little profit from these mining contracts."
International specialists should be involved in preparing mining contracts, Hamidi added.