SHAHRISTAN DISTRICT, Daikundi Province -- The wind blows, rustling the yellow and green leaves on the trees of Paye Wargha Alawdal village.
It is noon, and most of the villagers are inside their homes, the peaceful silence broken only occasionally by the sound of children playing games.
Fatima, 40, a resident of the village, is washing dishes under a faucet installed in her yard.
"Life is much easier now," she said. "Now I do not need to walk long distances to reach a well."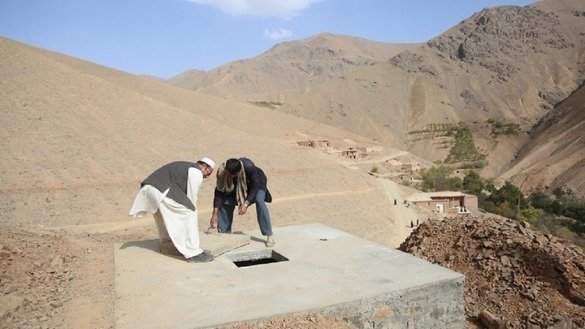 Almost 240 households live in Paye Wargha Alawdal village in Shahristan District of Daikundi Province, where the lack of access to sufficient and clean drinking water had brought about an increase in disease.
"We used to bring our drinking water from streams, and we had many cases of tuberculosis," said Mohammad Daoud, 47, a member of the local Community Development Council (CDC). "Now, people drink the water from the pipe system, and the number of people getting disease is very low."
The problem was solved when villagers built a water supply system with help from the National Solidarity Programme (NSP), the Afghan government's flagship programme for rural development.
Implemented by the village CDC, the water system, completed in November 2015, ensures a reliable water supply to more than 55 beneficiary households through a tank connected by a pipeline to a newly dug well.
With the new water system running, the villagers say they have seen a dramatic decrease in the incidence of infectious diseases, and the water system has benefited villagers in other ways.
"In the past, I had to walk 500 meters three times a day to fetch water," said Jan Ali, 14, a 7th-grade student. "Before the water supply system ... I was always busy bringing the water by donkey. Now I have more time."
Women participate in decision making
NSP is implemented by the Ministry of Rural Rehabilitation and Development. It is supported by the International Development Association, the World Bank Group's fund for the poorest countries; the Afghanistan Reconstruction Trust Fund; the Japan Social Development Fund and bilateral donors.
NSP started its work in Daikundi in 2003, eventually covering all eight districts and establishing 750 CDCs across the province. The programme has completed almost 1,600 projects in the areas of transport, education and drinking water.
However, the most significant gain has been in women's empowerment.
"Our biggest achievement in Daikundi is the equal participation of women in all the CDCs," said NSP provincial officer Ali Jan. "Women actively participate in all of NSP's decision-making processes and activities."
In Paye Wargha Alawdal village, women comprise half of the CDC and take leadership roles.
CDC member Noor Hussain, 65, said his wife is also an elected CDC member. "Women are helping us a lot to implement the projects better," he said.
Villager buy-in vital to success
Paye Wargha Alawdal village has received two rounds of NSP block grants. In the first round in 2004, villagers built a 845-metre-long protection wall and purchased 82 solar panels.
In the second round of NSP funding in 2013, totaling 2.3 million AFN (US $34,430), Paye Wargha villagers established the water supply system and constructed 61 latrines.
Villager buy-in is a key component of NSP, sustaining the programme's impact for the long term.
"Even though roads were poor in Daikundi and it was a challenge to deliver raw materials for the projects, NSP completed them successfully," said Ali Jan. "This is because we had the strong support of the villagers."
"All the projects we implemented through NSP brought big differences in our village," said Mohammad Ali, 32, a local villager. "Now, we can reach a clinic faster, we have sufficient water and we have no fear of floods."
[The World Bank Group authorises the use of this material subject to the terms and conditions on its website, http://www.worldbank.org/terms.]