KABUL -- The contribution and participation of rural residents are essential for the success of Afghanistan's development and reconstruction efforts, officials say.
"The key to the success of all rural development projects is co-operation and active participation of people," Ministry of Rural Rehabilitation and Development spokesman Akbar Rostami told Salaam Times.
"There are more than 35,000 community development councils (CDCs) throughout the country working in co-operation and co-ordination with local people for the development of villages," he said.
The CDCs are implemented through the Afghan National Solidarity Programme, which aims to develop the capacity of Afghanistan's approximately 40,900 rural communities to identify, plan, manage and monitor their own development projects.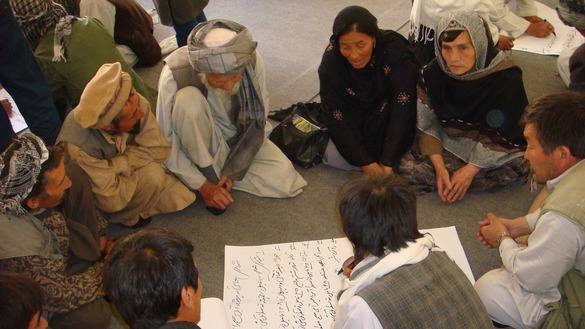 The World Bank in 2006, three years into the project, concluded that returns on NSP investments were "high and immediate", encouraging the Afghan government and international donors to increase funding and support.
Local residents take the lead
In numerous cases across Afghanistan, residents, utilising basic equipment and their own money, have paved and graveled hundreds of kilometres of roads and have constructed dozens of bridges, culverts, schools and mosques, ministry officials say.
"The Ministry of Rural Rehabilitation and Development recently started a programme for cleaning and reconstruction of water channels, water canals and drains in Parwan, Kapisa, Logar, Samangan and Kabul provinces, in which people completed this programme successfully, using their own money," Rostami said.
The success of public participation in rural development projects has encouraged the government to assign a greater role to local residents in future such projects, he said.
Local residents have co-operated in other projects carried out by the ministries of agriculture and education, he added.
The National Solidarity Programme has encouraged the public to participate in developing its villages, said Jarullah Mansouri, a former minister of rural rehabilitation and development.
"This is the greatest achievement of the government," he told Salaam Times.
"Now, people have realised how important and effective their role and their share are in the development of their villages," he said.
Success stories
For example, residents in Parwan Province have taken effective measures to solve the problems of their villages, said Ghulam Bahauddin Jilani, chairman of the Parwan Provincial Council.
"Residents of the village of Monir Khan graveled secondary streets and pathways, using money that they collected," he told Salaam Times. "These secondary streets used to cause problems for commuters during winters because of standing water."
"Moreover, people in Manareh Payeen village built a school with their own money," he said.
"Every family in our village paid 1,000 AFN ($15), while those who were in a better position contributed more," said Ahmad Sohrab, a resident of Monir Khan village.
"We filled potholes and graveled some of our streets, which during winters were always filled with mud and water," he told Salaam Times.
"Our commute has become much easier, and our children can reach school easily and on time," he said. "In addition, the problem of traffic congestion in our village has been solved."
Understanding the value of development
"The level of public awareness among ordinary Afghans has increased," said Sayed Ahmad Silab, a member of Kandahar's Provincial Council.
"For instance, in addition to their co-ordination and co-operation with the CDCs for development projects, people in this province make financial contributions as well," he told Salaam Times. "They want their standard of living to be similar to those one can find in big and modern cities of Afghanistan."
"People of Loay Wali village joined their hands and put their money together to prepare a drinking water reservoir that benefits hundreds of families," he said.
"In addition, residents of Zhari District, Kandahar Province, used 1.2 million AFN ($18,000) of their own money to build an elementary school so that their children can become educated and understand the value of development."