KABUL -- A gentle light filters into the room through grey curtains as Ahmad Masoud Samim, 31, and his colleagues review applications for employment at the Ministry of Communications and Information Technology.
Masoud, who has a master's degree from India, has held the position of Human Resources Director since 2013.
He was recruited to the ministry through the Afghanistan Capacity Building for Results (CBR) programme, which works with ministries fundamental to service delivery and economic growth by providing funds to hire top-tier civil servants, technical assistance to support reforms, and civil service training.
Government ministries are facing multiple problems at the management and leadership levels due to a shortage of expert and professional capacity. As a result, government programmes are often not implemented as effectively or efficiently as they should be.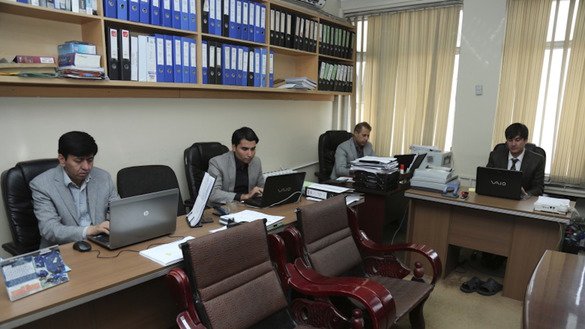 But the introduction of experts into governmental offices is gradually having an impact.
"Expert and professional staff come to our governmental offices through the CBR," said Masoud, who has worked in human resources management for eight years.
"This will improve effectiveness in the ministries and reduce opportunities for corrupt practices," he said. "This is apparent in my own office, where we have seen improvement in performance."
More-efficient ministries
The government launched the CBR in 2012 with the goal to improve the capacity and performance of priority line ministries and independent agencies in selected reform areas.
The current phase of the programme runs to the end of 2017. The total CBR budget of US $150 million (10 billion AFN) is provided through the Afghanistan Reconstruction Trust Fund (ARTF), administered by the World Bank.
CBR activities are aimed at, among other objectives, enhancing ministries' capacity to efficiently spend their development budgets, streamline business processes, and improve quality control and compliance of standards set by their reform programmes.
The programme works with 30 ministries and independent agencies, in which it plans to recruit 1,500 expert and professional staff in managerial and other leadership positions during this phase of the programme.
So far, the CBR has selected 751 professional staff, including the positions of provincial director of agriculture and provincial human resources directors in a number of ministries.
Capacity building for state institutions is also key to the CBR, which plans to train a total of 200 civil servants at the Civil Service Institute.
The programme has trained 93 civil servants so far, with 40% of the trainees being women. Employees go through a 14-month training period, after which they return to their offices to put the learned skills to use.
Strong political support
Implementation of the CBR is overseen by the High Council on Reform, which was established by President Ashraf Ghani in 2015.
"We recruit key people in places where employment and income are generated," said CBR Director Najibullah Wardak. "This will help circulate the country's income sources and help it reach economic sustainability and self-sufficiency."
Applicants are recruited through a transparent process based on the Civil Service Law.
The recruited staff generally have higher education degrees and sufficient experience to match the requirements set by the programme. They are paid through the CBR budget, and the programme also provides incentive payments to them.
In line with civil service requirements, a recruitment quota of 30% is reserved for women. It has recruited eight qualified women in various leadership positions at different ministries so far.
Nonetheless, the programme faces challenges in finding candidates with the right expertise and education to fill positions, as well as those interested in working in the provinces rather than the cities.
"In spite of many challenges, we have managed to score big achievements," Wardak said. "The government provides strong political support for this programme, which [helps] makes it even more successful."
[The World Bank Group authorises the use of this material subject to the terms and conditions on its website, http://www.worldbank.org/terms.]