KABUL -- Sitting cross-legged with war-displaced women in a mud-brick settlement on Kabul's outskirts, UN Secretary-General António Guterres Wednesday (June 14) called for increased humanitarian assistance and a political solution to end the conflict.
Guterres' first visit to Afghanistan as UN chief comes amid spiralling insecurity as the country struggles to reabsorb masses of refugees being deported from Pakistan, Europe and Iran, joining hundreds of thousands of others uprooted by war.
"We cannot leave these people alone," Guterres said at the dusty, squalid camp, ringed by armed guards and sniffer dogs, where he met Afghan families who fled an expanding conflict with Taliban and "Islamic State of Iraq and Syria" (ISIS) insurgents.
"These are the most vulnerable people. The international community needs to come together... We need to increase humanitarian assistance to help them live with dignity," he said.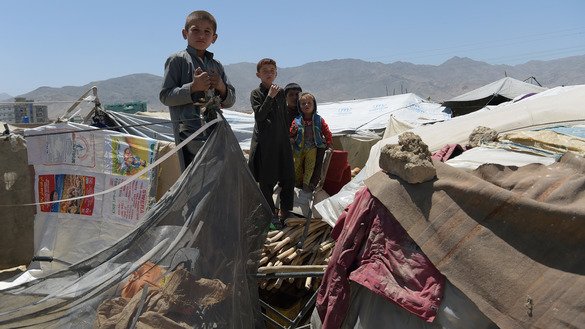 Concerns about the future
One of the women Guterres met was 30-year-old Kumri, a mother of four who lost her husband in a government battle with the Taliban in her native Kapisa Province.
"Shelter, clinic, school for my children," said Kumri, who has been in the camp for two years, rattling off a list of demands to Guterres. "I am concerned about the future of my children. They are forced to beg."
The humanitarian crisis engulfing Afghanistan has prompted international agencies, including the UN, to appeal for emergency funding.
Hundreds of thousands of refugees have returned from Iran and Pakistan, many of them stuck in limbo as their home districts are torn by insecurity.
The European Union last year signed an agreement with Kabul to return Afghans whose asylum appeals are rejected, which could result in thousands of repatriations despite the violence.
'No military solution'
More than 126,000 Afghans have fled their homes because of conflict this year alone, with displacement seen in 29 of the country's 34 provinces, according to the UN.
"Peace is the solution ... the international community, the neighbouring countries [and] all those related to the Afghan crisis need to come together and understand that this is a war that has no military solution," Guterres said at a news conference.
"We need to have a political solution; we need to have peace," he said, underscoring that humanitarian assistance to Afghanistan must increase and conditions must be created for Afghans to live in dignity.
UN-Afghan government co-operation
Guterres also met Afghan President Ashraf Ghani and Chief Executive Officer Abdullah Abdullah to discuss co-operation between the UN and the Afghan government, the security situation and the need to better mobilise the international community to counter terrorism.
Kabul has been on edge since a massive truck bomb May 31 killed more than 150 people and wounded hundreds in the city's fortified diplomatic quarter.
Authorities have accused the Taliban-allied Haqqani Network of the attack, which the Taliban and Haqqani Network deny.
At the Kabul Process conference June 6, Ghani issued an ultimatum to the Taliban, warning them to embrace peace or "face consequences".
The Afghan president appears keen to seek new UN sanctions against the Taliban if they do not resume peace talks.
Insisting on an Afghan-led peace process, Guterres said any sanctions would be up to the UN Security Council, adding: "There is no good Taliban and bad Taliban."