KABUL -- Afghan National Defence and Security Forces (ANDSF) have scored a series of successes against the Taliban in recent weeks, and the mounting losses have sparked an uptick in infighting and leadership struggles, which have eroded the Taliban's ability to wage effective combat, security officials and analysts say.
"Even though Afghan security forces face technical problems and still need equipment, they are able to discover and foil the activities of terrorists and defend their people," said Interior Ministry deputy spokesman Najib Danish.
"Now Afghan security forces are able to defeat armed opposition, while incurring fewer casualties," he told Salaam Times.
Mounting Taliban casualties
Recent operations demonstrate how Afghan security and intelligence forces are able to defend the country and prevent terrorist attacks, National Directorate of Security (NDS) spokesman Abdul Hasib Sediqi told Salaam Times.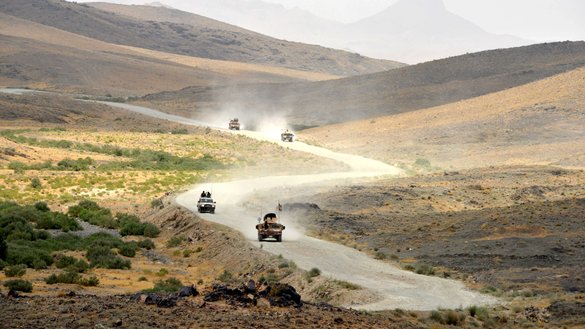 During the last week of May, ANDSF carried out a series of ground operations and air raids in Logar and Kunduz provinces, killing at least 20 Taliban militants, including commanders, local media reported.
The casualties and losses have continued to mount.
During a 24-hour period in early June, Taliban insurgents suffered heavy casualties at the hands of ANDSF air and ground forces, the Ministry of Defence (MoD) said.
An air strike conducted in Jalrez District of Maidan Wardak Province killed at least 23 militants. Taliban weapons, ammunition and other military equipment were destroyed, according to the MoD.
During a separate operation in Ghazni Province, ANDSF killed seven Taliban members, while in Kunduz Province, ANDSF operations killed 13 insurgents.
In Helmand Province, another eight militants were killed and several vehicles destroyed, and two other militants were killed in Kapisa Province.
Most recently, on Monday (July 17), the Afghan air force killed the Taliban deputy shadow governor for Kunduz Province and three other insurgents, according to local officials. A former Taliban shadow governor of Chahar Dara District was killed too.
The same day, Afghan troops and local residents drove back a militant attack in Taywara District, Ghor Province, killing at least 13 Taliban members.
Last week, Afghan forces rescued 70 soldiers in Uruzgan Province whom the Taliban had besieged for 10 months, killing more than 60 Taliban militants in the operation, said the Afghan National Army (ANA).
Meanwhile, as part of the ongoing Operation Khalid, troops killed 22 militants in Shah Joy District, Zabul Province, as they cleared 17 villages of insurgents, local media reported.
Taliban members forced to hide
President Ashraf Ghani is pleased with the security transition process and the success of ANDSF-led operations, said Dawa Khan Menapal, a Ghani spokesman.
"The secret behind Afghan forces' success is their co-ordination with the Afghan people and authorities," he told Salaam Times.
"Afghan security forces have made unprecedented achievements recently and made remarkable gains in a number of provinces," said MoD spokesman Gen. Dawlat Waziri.
"Afghan security forces put up stiff resistance against opposition attacks in Kandahar, Sangin District of Helmand Province, and a number of other provinces [in May]," he said, adding that ANDSF killed 17 insurgents in Kandahar and defended Helmand Province against thousands of insurgents, forcing them to retreat.
"Afghan security forces' notable achievements in fighting insurgents in Nangarhar, Helmand and Kandahar provinces has boosted morale, and the quality of their military equipment and information has also improved," Waziri said.
Unable to face ANDSF on the battlefield, Taliban and other militants are in retreat and acting defensively, said Kabul-based political analyst Ghafor Ahmad Javid.
"We are observing that insurgents are hiding among the common people [because] they do not have the courage or power to face our army and security forces," he told Salaam Times. "This is why they are attacking mosques and schools."
'Proud of our soldiers'
Gen. (ret.) Nazifa Zaki, a member of the lower chamber of parliament, said she is proud of Afghan forces' ability to provide security across the country and to inflict heavy insurgent casualties.
"We have to be proud of our soldiers; they are true heroes and have gained the trust of all Afghans," Zaki told Salaam Times.
Witnessing the achievements of the ANDSF, more youths have shown interest in joining the ranks of security forces, she added.
ANDSF operations have not only narrowed terrorists' control over areas of Afghanistan, they have enabled the government to encircle the enemy, said Jawed Kohistani, a Kabul military analyst.
"Although the security forces still require foreign financial aid, increasingly they are able to defend their country," he told Salaam Times.
Seeing this success, "Afghans feel more optimistic about their personal prospects and ability to keep their land", he said.
"I could not believe our security forces are this powerful ... [and] they treat the public well," said Hussain, 60, a Kabul resident.
Taliban infighting
"In contrast to the success of the [ANDSF], [the Taliban] are fragmenting into different parties," said Waziri. "As they cannot face the army, they are arguing over how to come and surrender to them."
"In June, insurgents kept fighting in Herat Province, even as we had daily news of Afghan forces killing dozens of Taliban in Helmand and Herat provinces," he said.
"The leaders are split into two factions now; each of them wants to lead the insurgents, and after Afghan forces killed their top leaders, they are fighting over leadership," said Waziri.
"Afghan security forces were able to rebuff insurgent attempts to extend their operational areas during the past few months, defeating their attacks every time," he said.