KABUL -- Deadly terrorist attacks carried out by the Taliban in Kabul and in Ghor province have dozens of Afghans dead and injured.
A Taliban car bomb struck a bus carrying government employees in Kabul Monday (July 24), killing at least 26 Afghans, according to AFP.
"The car bomb hit a bus carrying employees of the Ministry of Mines during rush hour," said Interior Ministry spokesman Najib Danish.
Thirty Afghans were killed, Danish told Salaam Times.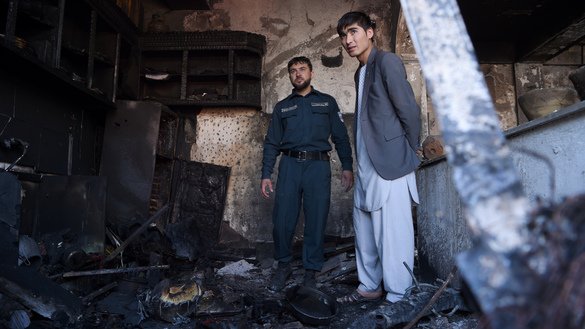 The Taliban claimed responsibility for the blast that hit a busy neighbourhood of the Afghan capital just before 7am.
"The vehicle caught fire," an eyewitness told Salaam Times of the bus that the suicide bomber targeted. "Many of its passengers were burnt."
"I wanted to go to the university when suddenly there was a powerful explosion," Samim, a passerby injured in the blast, told Salaam Times. "I don't remember anything. I woke up in Isteqlal Hospital."
An AFP photographer at the scene saw multiple bodies and wounded people in the street, surrounded by shattered glass as security forces cordoned off the area.
The Afghan government responded with outrage to the atrocity.
"Terrorists ... continue to solidify their dark legacy before the Afghan people and before God," the Afghan presidential palace said in a statement. "Terrorists committed the unforgivable ... act of targeting a vehicle transporting civilian workers."
The government is determined to destroy terrorist groups in the country, added the statement.
Bloodshed in Ghor
Meanwhile in Ghor Province, at least 35 Afghans were killed when the Taliban attacked a hospital over the weekend, a presidential spokesman said Monday.
"When the Taliban entered the hospital they killed 35, all civilians," spokesman Shah Hussain Murtazawi said, without specifying if they were patients or staff. "This is a cruel crime against humanity."
He did not elaborate, but unconfirmed reports Sunday (July 23) claimed that the Taliban had set the hospital alight and killed those inside.
The Taliban have denied reponsibility.
Kabul's Hazara community was due Monday to mark the one-year anniversary of a suicide bombing in the heart of the capital that killed 84 people, mostly members of the ethnic minority.
That bombing was the first in Afghanistan claimed by the "Islamic State of Iraq and Syria" (ISIS), which has since targeted the country's Shia minority on multiple occasions.
The Hazara community was planning to hold a demonstration to mark the July 23, 2016, tragedy but had agreed to postpone the march after meeting with President Ashraf Ghani Sunday (July 23).
[Sulaiman from Kabul contributed to this report.]