KABUL -- The Taliban and the "Islamic State of Iraq and Syria" (ISIS) jointly massacred dozens of civilians in an Afghan village, officials said Monday (August 7), describing the slaughter as rare co-operation between the insurgents.
The fighters killed as many as 60 men, women and children in remote Sayad District of Sar-e-Pul Province Saturday (August 5) after overrunning a local, government-backed police force in a 48-hour battle, according to local officials.
"It was a joint operation by [ISIS] and Taliban fighters. They recruited forces from other provinces of the country and attacked Mirzawalang village," Zabiullah Amani, a spokesman for the provincial governor, told AFP.
The spokesman alleged that dozens of Taliban and ISIS militants under the command of Sher Mohammad Ghazanfar, a local Taliban commander who Amani claims pledged allegiance to ISIS, launched a co-ordinated attack on the area Thursday (August 3).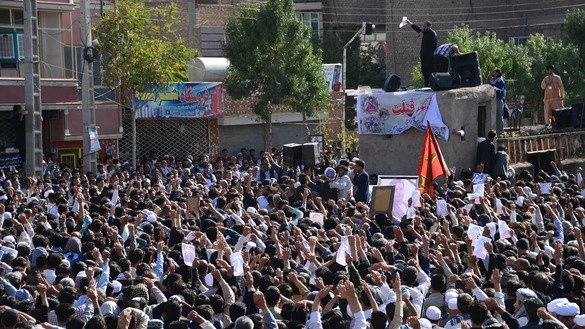 "The fighters overran the area, and it led to the massacre of innocent and defenceless civilians," he said.
"[They] beheaded, shot, and even mutilated the bodies of Mirzawalang residents, most of whom were from the Hazara people, in the most gruesome way," Amani told Salaam Times, adding the militants now have dozens of families in captivity and "are killing them one after another."
Forty-four of the 50 victims so far are believed to be civilians, said Mohammad Noor Rahmani, head of Sar-e-Pul's provincial council, adding that the death toll would likely climb.
'Genocide' and mass abduction
Afghan President Ashraf Ghani Sunday (August 6) condemned the reported massacre, saying in a statement that the "barbaric act is deemed a direct violation of human rights and a war crime".
The militants "have committed genocide by massacring a tribe," said Mohammad Hasan Sharifi Balkhabi, a representative of Sar-e-Pul Province in the Afghan parliament. "They did not show any mercy on children and women. When others returned to the area to collect the bodies of their martyrs, the terrorists shot them too."
"The Taliban and ISIS have taken more than 50 residents of the area to an undisclosed location," Balkhabi told Salaam Times. "They do not hand over the bodies of the victims ... in order to hide their crimes. They even dumped a number of bodies from mountaintops into valleys."
"We strongly condemn the brutal killing of civilians, especially women and children, by the Taliban and ISIS in Sar-e-Pul Province," Bilal Sediqi, spokesman for the Afghan Independent Human Rights Commission (AIHRC), told Salaam Times.
"Murdering civilians is a heinous and inhuman crime. It is against Islamic law, as well as the international humanitarian laws, and is considered a war crime," he added.
Teaming up to kill
The Taliban and ISIS have been locked in combat throughout Afghanistan, vying for the ability to extort and plunder the civilian population, but co-operation between the two militant groups has precedence.
An Afghan security source told AFP that in about three incidents in the past, fighters from both groups teamed up to strike Afghan forces in certain areas.
"This is not the first time that they have co-operated. There are no strict ideological distinctions between them, so they build bridges when it helps them both. It's very opportunistic," the source said.
ISIS has been adding a sectarian twist to the Afghan conflict, with a number of deadly attacks on Shia in the past year.
Last week two suicide bombers throwing grenades killed more than 33 worshippers at a Shia mosque in Herat, in an attack claimed by ISIS.
Zabiullah Mujahid, a spokesman for the Taliban, confirmed to AFP that they had captured Mirzawalang village but said they had done so without ISIS.
[Sulaiman from Kabul contributed to this report.]