HERAT -- Thousands of Shia protesters chanted slogans against the "Islamic State of Iraq and Syria" (ISIS) Wednesday (August 2) as they carried the coffins of victims of a mosque attack that killed 33 people in Herat city.
Up to 5,000 angry mourners, including relatives of the dead, congregated near the site of Tuesday's (August 1) suicide bombing and mass shooting as ISIS claimed responsibility for the latest atrocity targeting the minority community.
"Death to ISIS!" and "Down with fundamentalism", the demonstrators chanted, as the coffins were brought one by one and placed in a refrigerated lorry near the Jawadya mosque.
The mourners, who were set to march to the cemetery to bury their dead, demanded that the government bring the perpetrators to justice.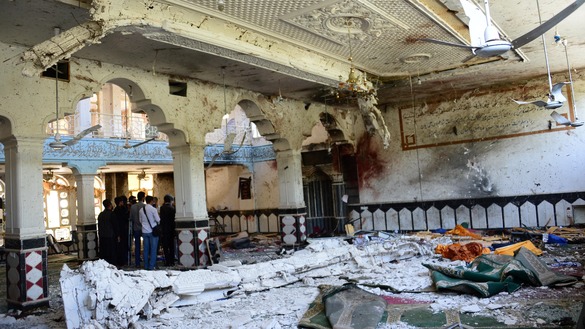 The death toll from the attack, in which two suicide bombers throwing grenades stormed the packed mosque, had risen to 33, said Jilani Farhad, a spokesman for the governor of Herat Province. Another 66 were wounded.
Young children were also among those killed and wounded, according to eyewitnesses.
"At 8pm [Tuesday], two armed suicide bombers attacked Jawadya mosque in the Bekr Abad area of Herat city," Herat provincial police chief Brig. Gen. Mohammad Ayoub Ansari told Salaam Times.
"The two terrorists first fired on the praying worshippers,"he said. "Then one of the two terrorists blew himself up in the crowd."
Herat police spokesman Abdul Ahad Walizada confirmed that account, saying both attackers are dead. He did not provide details on how the second attacker died.
ISIS claimed responsibility for the assault. It comes a day after the ISIS militants attacked the Iraqi embassy in Kabul, killing two people.
'An attack on all Afghans'
Farhad Afshar rushed to the mosque after hearing the explosion.
"When I arrived, the mosque was full of flesh and blood," he told AFP. "I saw a mother crying and searching for her two children. She found one of them wounded inside the mosque; the other was found dead in an ambulance."
Witnesses described scenes of terror and chaos, with emergency wards overwhelmed and survivors rushing victims to hospital in their own vehicles and even on foot.
"There weren't enough ambulances... I tried to take a small child to hospital, but he died in my hands," Ali, who only gave one name, told AFP.
"I lost all my loved ones; they even killed children as young as seven," a sobbing Farhad Dost, whose cousin died in the attack, told AFP. "This wasn't an attack on Shia; this was an attack on all Afghans, all Muslims."
Afghans must stand united
The Herat massacre was the latest in a series of assaults on Afghanistan's Shia population.
In June, ISIS claimed responsibility for a suicide attack on a crowded Shia mosque in Kabul that killed four people.
In November last year a massive suicide blast killed at least 27 people and wound 64, also at a Shia mosque in Kabul.
In July 2016, ISIS claimed responsibility for twin explosions that ripped through crowds of Shia Hazaras in Kabul, killing at least 85 people and wounding more than 400.
Afghanistan's national unity government strongly condemned the Herat attack, describing it in a statement as an "anti-Islam act".
It also called "on the Muslim people of Afghanistan, as well as on the religious scholars, to stand united against the barbaric actions of the terrorists".
President Ashraf Ghani added that "terrorists cannot create sectarian divisions among our people".
[Sulaiman from Kabul contributed to this report.]