KABUL -- The "Islamic State of Iraq and Syria" (ISIS) is making life miserable for residents of Sar-e-Pul and Jawzjan provinces, local officials say.
In Sayad District, Sar-e-Pul Province, ISIS members have beheaded a number of prominent residents in an attempt to silence those who oppose the group's extremist ideology.
"On July 24, Mullah Taj Mohammad, a religious scholar and a resident of Sayad District, was ... decapitated by an ISIS commander named Qari Sher Mohammad," Zabiullah Amani, a spokesman for the Sar-e-Pul governor, told Salaam Times.
"In all likelihood ISIS members beheaded him for preaching against this group ... denouncing ISIS's anti-Islamic actions," he said.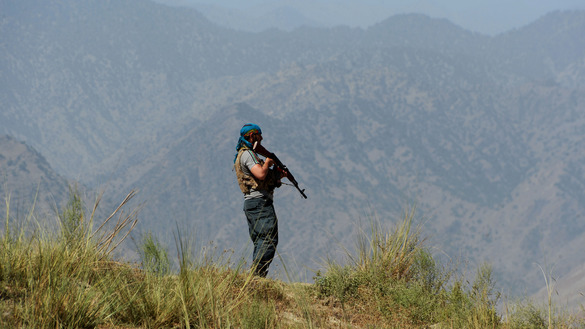 "A few months ago, ISIS militants decapitated three tribal elders in Mian Dara village, Sayad District," Amani said.
'Keeping us in darkness and ignorance'
Meanwhile in Darzab District, Jawzjan Province, ISIS is restricting residents' access to information.
"ISIS has banned the purchase and sales of TV sets, satellite dishes, cigarettes and chicken meat in areas under its control," Mohammad Reza Ghafoori, a spokesman for the Jawzjan governor, told Salaam Times.
"ISIS militants have warned that anyone who disobeys this ISIS order will be punished," he said.
The militants warned that violators of the ban on TV face a fine of 100,000 AFN ($1,462) -- or worse.
"On July 25 ... ISIS militants shot a tribal elder to death for not co-operating with ISIS," Ghafoori said.
"As a result of ISIS-imposed restrictions and oppressive measures against local residents, 1,000 families of Darzab District have been forced to leave their homes," he said. "Six hundred families went to Sheberghan, the capital of Jawzjan Province, while the other families went to neighbouring provinces."
Militants restrict residents' daily lives
"ISIS militants in the areas of Darzab under their control have been robbing the local population of normal life by imposing new restrictions daily," said Darzab District Governor Baz Mohammad Dawar. "They have endangered lives, property, jobs and education [in the case of schoolchildren]."
"ISIS forces have also resorted to banditry," he told Salaam Times. "On July 26 ... seven teachers were on their way home after withdrawing their salary from banks when ISIS militants robbed them."
"Although ISIS members had previously destroyed a number of schools in Darzab, residents are now worried about complete school closures by ISIS," Dawar added.
"ISIS has made it impossible for us to live a normal life," Gholam Sarwar, 60, a retired schoolteacher and a resident of Darzab, told Salaam Times.
"Moreover, by destroying schools and preventing us from watching television, ISIS militants want to keep us in darkness and ignorance so that they can continue their terrorist activities in Darzab," he said, urging the Afghan military to step up its operations against ISIS.
ISIS under attack
ISIS is facing its final days in Afghanistan, said Ministry of Defence spokesman Gen. Dawlat Waziri.
After sustaining heavy casualties in the first half of the year in the south and east, ISIS is trying to prove its existence in the north through these displays of force, he said.
"They are committing a series of crimes in order to exaggerate their presence," Waziri told Salaam Times. "In the coming days, however, major ground and aerial military operations will be launched in order to eradicate ISIS in Darzab."
ISIS suffered another blow to its operations on August 10, when an air strike in Kunar Province killed several members, officials said Sunday (August 13).
The strike in Darah-Ye Pech District killed Abdul Rahman, the Kunar provincial leader of ISIS's Khorasan branch (ISIS-K), and three other members of the group.
Rahman's death comes a month after coalition forces killed Abu Sayed, the head of ISIS-K, marking the third time in a year the affiliate lost its leader.
Rahman was ISIS-K's provincial emir in Kunar and had been seen as the primary candidate to succeed Sayed as the affiliate's leader following the latter's death, also in an air strike in Kunar, on July 11.