PESHAWAR -- In the wake of the repatriation of Afghan refugees from Pakistan, Afghan students receiving higher education in Pakistan were faced with difficulty in continuing their studies.
In 2016, 370,000 Afghan refugees, including children and grandchildren born in Pakistan, returned to Afghanistan.
However, measures are now being taken to help Afghan students continue their education in Pakistan.
Currently, the Afghan Ministry of Foreign Affairs and the Higher Education Department (HEC) of Pakistan are in the midst of negotiations to remove remaining obstacles to further education co-operation between the two countries.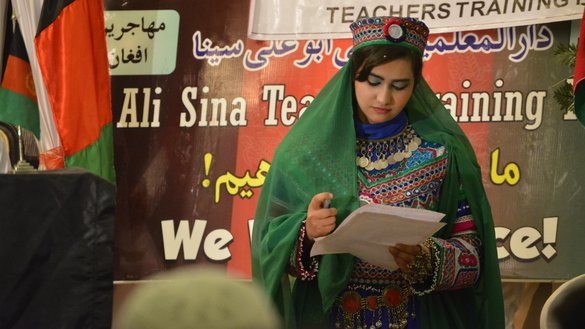 One of the outstanding issues is that Afghan students can only come to Pakistan on a visit visa that lasts for just a month.
The Pakistani government, in co-ordination with the Khyber Pakhtunkhwa (KP) government, is also taking measures.
The Pakistani government has reserved slots for and provided scholarships to Afghan students in Pakistani institutions, said Abdul Hameed Jalili, director of the Afghan Ministry of Refugees and Repatriation.
"Additional accommodation of Afghan students at the university and college level needs to be ensured because they are the future of Afghanistan," he told Pakistan Forward.
"It will be a difficult process but will certainly have long-term benefits," he said of a potential agreement between Pakistan's HEC and the Afghan Foreign Ministry.
Efforts began in February when Pakistan decided to issue visas to Afghan nationals under four categories: education, skilled labour, business and to those with matrimonial bonds across the border.
Pakistan also launched a programme to build the capacity of universities in Afghanistan in addition to providing more than 3,000 scholarships to Afghan students earlier this year.
The scholarships were intended to provide Afghan students with the same educational opportunities enjoyed by Pakistani students, said Pakistani President Mamnoon Hussain at the time.
Convenience prevails
Dawood Jabarkhel, 48, an Afghan citizen living in Peshawar, said primary school students just need to present the identification cards of their parents.
"Our children can easily get admission in any school, whether government or private," he told Pakistan Forward.
To enrol in primary school, Afghan students need to present only the identification cards of their parents, he said.
These efforts will ensure "a bright future for our youth and countrymen", he told Pakistan Forward.
"In rebuilding a country torn apart by decades of deadly warfare and to foster peace in the region, the importance of avenues and access to quality education to Afghan students cannot be overlooked," he said.
The scholarships and reserved seats for Afghan nationals are playing a pivotal role in ensuring Afghanistan's future development, said Nasrullah, an Afghan studying software engineering at the University of Engineering and Technology (UET) in Peshawar.
"Schools, colleges and universities in Pakistan are the best option for Afghan students because of easy access to them," Nasrullah told Pakistan Forward. "Our students have few opportunities for education in Afghanistan."
Hardship for some
However, following efforts to repatriate Afghan refugees, many students have left educational institutions in Pakistan and returned to Afghanistan.
Fayaz Khalil, an owner of a private school in Peshawar, said in 2015 there were 52 Afghan students studying at his school.
"Now there are only two Afghan students remaining," he told Pakistan Forward. "Their number has fallen dramatically because of the return of their families to Afghanistan."
"Many of them left unwillingly," he added. "Prospects for continuing their education in Afghanistan are bleak."