KABUL -- The Ministry of Defence is planning to train and arm local civilians to help troops defend territory where the Taliban and "Islamic State of Iraq and Syria" (ISIS) militants have been driven out.
"These individuals will be mainly responsible for securing area that the Afghan National Army [ANA] freed from the enemy," Gen. Mohammad Radmanesh, deputy spokesman for the Ministry of Defence, told Salaam Times.
"Their number will reach more than 20,000, and they will be provided with special military uniforms," he said.
Authorities have not specified the areas where they will recruit these civilians, said Radmanesh, adding that the government will recruit wherever it needs their services.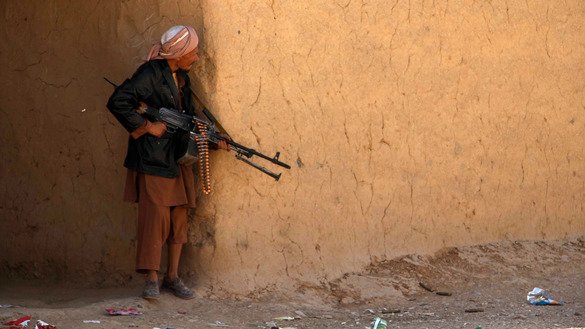 It has not determined the starting date for recruitment either.
The idea behind the proposal comes from the Afghan National Defence and Security Forces' (ANDSF) past experiences in beating back insurgents, Radmanesh said.
In the past, soon after Afghan troops expelled insurgents from various areas, the insurgents would return after the troops moved on to their next battle.
"Residents will be recruited from their areas because they know their regions and how to keep them," Defence Ministry spokesman Dawlat Waziri told AFP, but added there was no guarantee of implementing the plan.
Welcomed security plan
A number of members of parliament and military analysts, as well as ordinary Afghans, are welcoming the ministry's recruitment plan.
"It is in the interest of the country to further develop the security forces and to establish order," said Abdul Rahim Raheen, a member of the Wolesi Jirga (the lower house of parliament) representing Badghis Province.
"One of the responsibilities of these troops is to secure areas that we have freed from the enemy's grip, and this step will be very effective," he told Salaam Times.
"The local police have proven to be very effective in some areas, and I hope that the local militia also will be effective," he said.
"This is the best plan because we don't have enough [ANA] soldiers to provide security throughout the entire country," Col. (ret.) Abdulghaffar Gardizi, a security analyst in Kabul, told Salaam Times.
Mohibbullah, a resident of Sangin District, Helmand Province, also welcomed the plan.
Sangin District has fallen several times to militants in the past before being retaken by ANDSF, he said, adding that the general population suffers from this insecurity.
"If a local militia had been present before, the Taliban wouldn't have been able to take over the district," he told Salaam Times.
Management concerns
Nonetheless, some Afghan analysts are worried about the future of these soldiers and the kind of leadership that they can expect.
"Arming ordinary citizens is ineffective and is dangerous to the country's future," Gen. (ret.) Atiqullah Amarkhil, a Kabul-based military analyst, told Salaam Times.
"The Afghan government's expansion of irregular forces could have enormously dangerous consequences for civilians," said Patricia Gossman, a senior researcher at Human Rights Watch, AFP reported September 17.
In addressing such concerns, Radmanesh said the local forces will be recruited and commanded in accordance with Afghan law and will fall under the purview of the Ministry of Defence.
"There should be no worries or concerns in this regard, since these are individuals who have been trained in the ranks of the ANA and know the rules of the military," he said. "No one will be allowed to violate the country's laws and traditions."
Boosting Afghan security forces
The Afghan government and its foreign allies have been cultivating militias to bolster the 330,000-strong ANDSF as they battle to gain the upper hand against insurgent groups.
As of February, only about 60% of Afghanistan's 407 districts were reported to be under government control, according to the US watchdog agency SIGAR.​
Earlier this year President Ashraf Ghani ordered a near doubling of the country's elite fighting force from 17,000 as part of a four-year road map that also aims to strengthen Afghanistan's air force.
Afghanistan trained and armed 505 civilians to protect Shia mosques and gathering places during the holy month of Muharram, a move that proved successful as Ashura passed without any major security breach.