KABUL -- US Vice President Mike Pence in a surprise visit to Afghanistan Thursday (December 21) praised the progress made in the fight against the Taliban.
"The American people deserve to know that with the courage of everyone gathered here, we're making real progress in this fight for freedom in Afghanistan," Pence told US troops stationed in Afghanistan, who number roughly 15,000, according to a White House statement.
"We've dramatically increased American air strikes. And together with our Afghan partners, we've put the Taliban on the defensive," he said, also pointing at efforts to target the drug trafficking networks that help fund the Taliban.
"All across this country we've won new victories against the terrorists, no matter what they call themselves or where they try to hide," he said.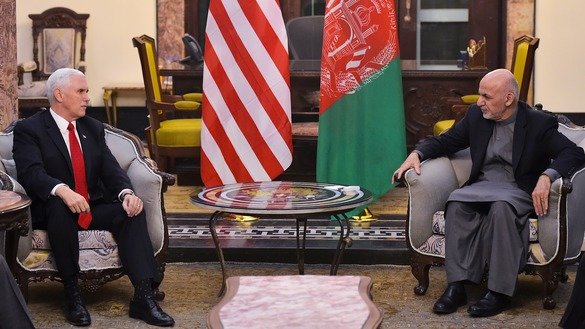 US strategy for Afghanistan
Pence's visit included a helicopter dash from Bagram Airfield into the heart of Kabul to meet President Ashraf Ghani and Chief Executive Abdullah Abdullah, both of whom the United States is counting on to help rebuild the country.
"We've been on a long road together," Pence said. "We've both sacrificed much."
But, he added, "We are here to see this through."
Pence's visit comes four months after US President Donald Trump unveiled a new strategy for Afghanistan, which Pence told the troops was "already bearing fruit".
His visit from Bagram to Kabul was in doubt until the last moment, when a White House official said he countermanded a decision that the weather was not clear enough to travel.
Even then, Pence's helicopter flight took place in near total darkness, moving low and fast and with a heavy phalanx of Secret Service and special forces.
The White House official said the decision was made "out of respect. To meet with Ghani and Abdullah".
A message for Pakistan
Pence repeated warnings that Pakistan must stop offering cross-border safe havens to Taliban factions and armed jihadist groups fighting US and Afghan troops.
"Pakistan has much to gain from partnering with the United States, and Pakistan has much to lose by continuing to harbour criminals and terrorists," he said.