NANGARHAR -- Taliban and "Islamic State of Iraq and Syria" (ISIS) militants regularly dress in women's clothing and hide out in civilians' homes in a desperate attempt to escape Afghan forces, Nangarhar provincial officials and local residents say.
In an operation March 17, soldiers from the Afghan National Army's 4th Brigade killed four Taliban militants in Ghani Khel District.
"Three others were captured alive, including a man in a dress," Brig. Gen. Mohammad Nasim Sangin, the commander of the brigade, told journalists at the Afghan National Army headquarters in Jalalabad the same day.
"We have also arrested many other terrorists who were wearing ladies' clothes and wanting to escape," Sangin said. "But as soon as our brave soldiers found out about them, they were arrested and referred to our judicial departments."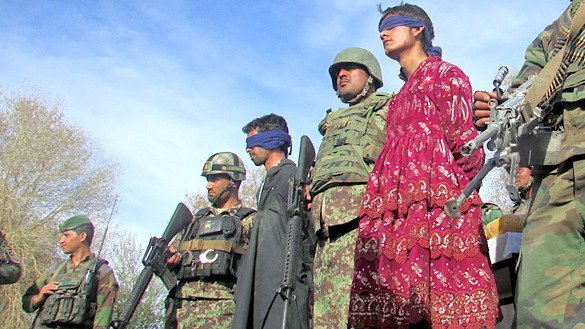 "These terrorists now have no shame, [going so far as] to wear their mothers' and sisters' clothes, and wanting to keep their [foreign] bosses happy," he said.
"They will never achieve their goals," said Sangin.
Inevitable capture
Militants have used the same tactic on numerous occasions.
"Both ISIS and the Taliban escape to civilians' houses when the fighting heats up and ... have no other options but to wear ladies' outfits or burqas to hide," Ahmad Khan, a police officer in the Pandola area of Achin District, told Salaam Times.
"We have captured many [militants dressed as women] because we can recognise their gait," he said.
Sayed Qayum, 32, a resident of the Marco region of Ghani Khel District, said militants have tried the same tactics in his district as well.
"It has happened a number of times," he told Salaam Times. "The militants fight, and when they do not have any way to escape, they wear ladies' clothes to conceal themselves from troops."
"If they do not [disguise themselves as women], they will face either death or prison," Qayum said.
"Dozens" of similar incidents have been reported over the past year, confirmed provincial officials.
"Our brave forces have attacked terrorists and killed some of them," Ataullah Khogyani, spokesman for the Nangarhar provincial governor, told Salaam Times. "Other militants have entered strangers' houses in order to protect themselves from death."
Some fleeing insurgents "barged into strangers' houses to escape death" at the forces' hands, he added.
"Because of Pashtunwali, our forces do not search those who wear ladies' clothes," he said, referring to the unwritten code of honour followed by the Pashtun people. "But when they become suspicious, they have found men wearing women's outfits and burqas."