LASHKARGAH -- More than 1,000 religious scholars, tribal elders and local residents gathered in Helmand Province to call on the Taliban to declare a lasting ceasefire and hold direct talks the with Afghan government.
About 300 women took part in the gathering held August 5 in Lashkargah.
"We spent the three days of Eid ul Fitr in joy," Attaullah Afghan, chairman of the Helmand Provincial Council, told participants of the gathering, referring to the ceasefire the government and Taliban observed in June.
"When the ceasefire was announced, all [Afghans] came out and rejoiced," Afghan said.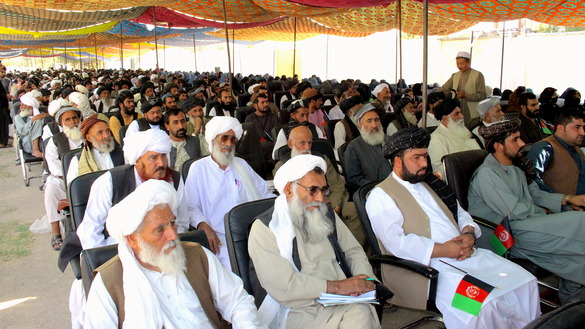 He urged the Taliban to declare a lasting ceasefire on the occasion of the upcoming Eid ul Adha.
"Making peace is a good thing to do for coming generations," he said. "Peace does not mean failure."
"If peace was established, both [the Taliban and the government] will have a peaceful life," he said, adding that migrations, illiteracy and preventable diseases would cease.
Mawlawi Abdullah Ishaqzai, a religious scholar from the Mukhtar area of Lashkargah, accused the Taliban of disobeying Islamic instructions.
"The Messenger of Allah says: wherever the call to prayer is heard, do not fight there," he said at the gathering. "And we hear the call to prayer here all day, so why Taliban are you are fighting?"
"The Taliban should make peace, stop war and begin intra-Afghan negotiations," he said.
Fatwa denounces Taliban's war
The participants of the gathering declared support for religious scholars' declarations made in Kabul in June and in Saudi Arabia in July.
"The country's religious scholars considered it necessary to declare a fatwa against fighting in Afghanistan, and this was a great responsibility in this world and the hereafter," Mawlawi Mohammad Yunus Musawi, a religious scholar at the Bibi Zahra Shia mosque in Lashkargah, told the participants in Lashkargah.
"About 3,000 religious scholars in a historic meeting [in Kabul] declared the fighting in Afghanistan illegitimate," he said, referring to the June gathering of ulema marred by a suicide bombing.
"The order to wage jihad can come only from an Islamic state, and other entities have no right to issue it," he said.
"We support the decision made by religious scholars to consider the fighting, suicide attacks and killings illegitimate," he said.