LASHKARGAH -- Hundreds of Helmand residents, including tribal elders and religious scholars, gathered last week to praise Afghan forces for their efforts in ensuring security during the month of Ramadan and the celebration of Eid ul Fitr.
At a ceremony held on June 13 in Lashkargah, participants presented security forces with letters of appreciation and Afghan flags.
Abdul Ahad Masoomi, a Helmand tribal elder and chairman of the Kajaki District Community Council, lauded efforts of security forces in protecting cities and districts throughout Helmand Province.
"These soldiers have sacrificed their lives to protect the public's dignity, and we praise their bravery," Masoomi said at the gathering. "We wish that the martyrs go to heaven and the injured have a fast recovery."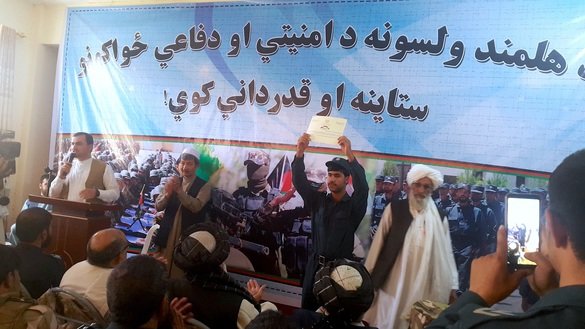 "Those who do not love their land and country, their faith is weak... the love [for the country] is part of faith," he added.
"It is compulsory for society to help the security and defence forces under any circumstances," Masoomi told the Afghan forces. "The population of Helmand is ready to stand with security forces and defend its country with its lives."
"Those who intend to weaken the Afghan security forces will take these intentions to their graves," he said.
Safety of children
Jalil Ahmad Samsoor, a Lashkargah resident and civil society activist, thanked the security forces for providing a safe environment for children to go to school.
"It is because of you that I can get an education, children can go to school and farmers can work in their fields," Samsoor said at the gathering.
"History will remember the bravery and sacrifices of the Afghan security forces, and they will be taught to the next generation as a lesson," he added.
Mawlawi Ghulam Hazrat, a religious scholar in Lashkargah, asked residents at the ceremony to support their security forces.
"It is an obligation for every Afghan to support their security forces, and I call on civilians to stand with their soldiers," he said.
Civilians should work together with security forces to prevent terrorist activities in their neighbourhoods, he added.
Karim Hamidi, a former military officer and chairman of the Achakzai tribal council in Helmand, said that, if needed, he would be ready to pick up weapons again and fight alongside security forces against the enemy.
"If I feel the need, I will fight shoulder to shoulder with our soldiers," he said. "Now, civilians stand alongside their security forces."