SYRIA -- Struggling for relevance in the public eye, al-Qaeda on the 17th anniversary of the September 11 terrorist attacks in the United States issued a public statement reiterating its responsibility for the atrocities and slamming all those who believe otherwise.
Meant to assert al-Qaeda's strength, the message also debunked a prevalent conspiracy theory regarding the September 11 attacks -- one that holds that the event was a self-inflicted wound to justify US military invasions in the Middle East.
Al-Qaeda's Bayan Foundation for Media Production published the statement titled "Yes, we did it" Tuesday (September 11).
The author is Sheikh Bilal Khuraysat (Abu Khadija al-Urduni), a top al-Qaeda leader in Syria who has close ties with al-Qaeda emir Ayman al-Zawahiri, the successor to Osama bin Laden.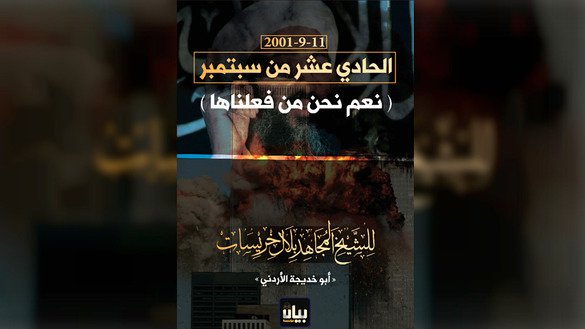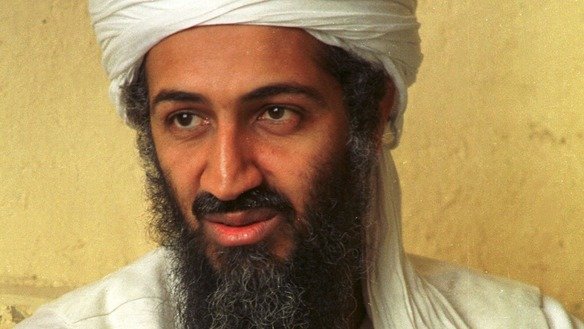 Enemies of the mujahideen
The statement begins by accusing a host of "enemies" of casting doubt on the nature of the September 11 attacks.
"It's not strange, as those enemies have been resorting to this policy of casting doubts in order to undermine trust in mujahideen, arguing that hadn't it been for the secret co-operation between the international intelligence agencies, the mujahideen wouldn't have been able to do it!", the statement says.
"However, what is really strange is that some Islamists, whose souls have been built on invoking defeat in every phase of their lives, should fall into this rotten silence," it says. "Those [Islamists] cast doubts over the mujahideen's ability to pull off such high-profile, unique operations."
These Islamists, the doubters of al-Qaeda's ability, "compare their ability to that of their enemy" and are "overwhelmed by the latter's strength and tyranny".
The statement comes amid great turmoil among a number of extremist organisations, as al-Qaeda-linked groups, the "Islamic State of Iraq and Syria" (ISIS), and others suffer continuing defeats in Syria, Afghanistan and elsewhere.
Al-Qaeda also appears to be drawing a line between itself and other militant groups -- those Islamist doubters -- in the region.
These purportedly weak and fearful Islamists, the statement says, "persuade themselves, and others, to wait, take a step back, and release statements to appease international powers".
They "back down on what they say and turn against themselves", it says.
"Rather than treat the diseases in their hearts, by resorting to Allah Almighty and strengthening trust in Him, you would find them rushing to explain their stance, show their case, and announce their goals and targets!"
Debunking conspiracy theories
Al-Qaeda's statement aims to reassert its relevance and "victory" -- even while fixating on something that happened 17 years ago -- and also serves to debunk popular conspiracy theories in the region.
One of those theories is that the United States staged the September 11 hijackings to justify wars in the Middle East.
Another persistent conspiracy theory is that ISIS and extremist groups like it are the creations of Western countries, particularly of the United States.
Both of these theories have considerable support in different parts of the Muslim world among large swaths of the population, including politicians.
Such theories are lies that various groups and state actors use to distort facts on the ground, say a host of academics, specialists and religious figures.
Iran's Islamic Revolutionary Guard Corps (IRGC), in particular, has often propagated the falsehood that Western countries fuel conflicts in the Middle East.
Even as it busies itself spreading these lies, Iran is seen as a long-time harbour for wanted al-Qaeda members and hosts bin Laden's son, Hamza, one of the emerging leaders of his father's terrorist group.