ZABUL -- The closure of dozens of health facilities by the Taliban in Zabul Province has left thousands of local residents in extremis and without a viable alternative, local officials say.
"Taliban militants have closed 39 health centres in a number of Zabul districts," Dr. Lal Mohammad Tokhi, director of the Zabul Public Health Department, told Salaam Times.
The Taliban have shut down health centres in Shah Joy, Arghandab, Mizan, Daychopan, Naw Bahar, Shamalzo, Khak Afghan, Atghar, Shinkay and Shahr-e-Safa districts, he said, adding that the Taliban have kept these centres closed since mid-July.
"Some 65,000 residents have been deprived of health services, which has prompted the local population to transfer patients from remote areas in Zabul to the provincial capital [Qalat]," Tokhi explained.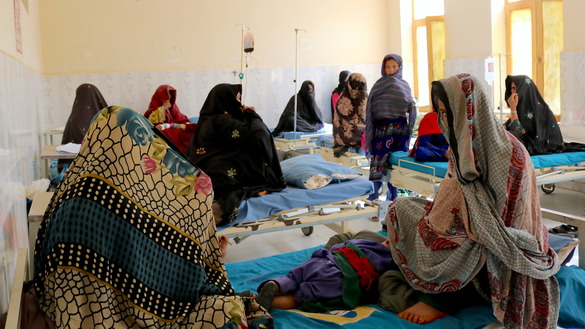 "First, the Taliban closed Shah Joy hospital and then informed the doctors not to provide health services anymore," he said.
The Taliban have threatened to kill the doctors if they do not comply, Tokhi continued.
The Taliban closed down the health facilities as a reprisal after Afghan authorities banned the use of motorcycles early this year to prevent [future] Taliban assaults using motorcycles, according to Faiz Mohammad Ahmadzai, a civil rights activist based in Helmand Province.
"Motorcycles are banned in [Qalat] city, but the ban is not enforced in remote areas [in Zabul]," he told Salaam Times.
"We want the Taliban to value civilians' lives and to reopen all the clinics," Ahmadzai said.
Adding to residents' woes
Amir Mohammad, 30, a farmer in the Sangar Jamal Khel area of Shah Joy, said after the Taliban closed the local health facility [in Shah Joy], he had to borrow money to bring a sick relative to the clinic in Qalat.
"I brought my ailing relative six or seven times to [Qalat]," he told Salaam Times without specifying their relationship. "I have borrowed all this money, but I don't know where to go after I finish spending it."
Although treatment is free at public hospitals, local residents have to bear related expenses such as transport and medication.
"If the clinic in our village were working, I would have gone there," said Mohammad. "Why would I come here [to Qalat]?"
The Taliban and other militants want to impose their ideology on others by restricting public services, said Razia Mohammadi, a midwife at the Sultan Malakhi Hospital in Qalat.
"The Taliban think if they shut down the health centres, civilians might join them, but it is not possible," she told Salaam Times. "[The militants] have become the enemies of schools and of health centres."
"A number of patients come to Qala under life-threatening conditions because the health centres in their districts are closed and because [patients] do not have access to primary health services," she said.
'Fighting the public'
The closure of clinics shows that the Taliban's fight is against civilians because they have lost their power to fight on the battlefield, said Zabul provincial police chief Mohammad Mustafa Mayar.
"The Taliban have lost the power [to engage in] face-to-face fighting," he told Salaam Times. "They have suffered heavy losses for many months. They [are retaliating by] closing down the health centres."
In some areas, the Taliban have asked for money in exchange for reopening health centres, Zabul provincial governor Rahmatullah Yarmal said.
"The Taliban have demanded ransom to allow health centres to reopen, but the health agencies have refused to pay," he told Salaam Times.
"Tribal elders, religious scholars and local residents have launched efforts to reopen these centres," he said.