ZABUL -- Taliban militants have taken over the houses of hundreds of families in Zabul Province, forcing residents to flee to desert areas as the militants use their homes as battlegrounds.
"The Taliban came to our village during the final days of the month of Ramadan and asked us for food," said Muhammad Karim, 45, a resident of the Nawrak area in Shah Joy District. "After they ate, they asked us to move to another area, saying they wanted to live here as they didn't have any other place from where to fight."
"We begged them for God's sake to not be cruel to us, and we told them we had no money and nowhere to go," he said.
"When we rejected their demand, they beat some young people in our village -- they humiliated some and detained some others," he said. "Finally, we were desperate to leave."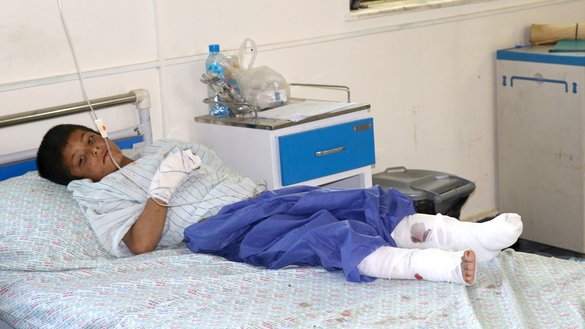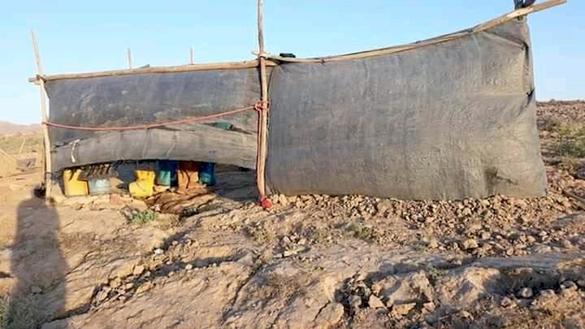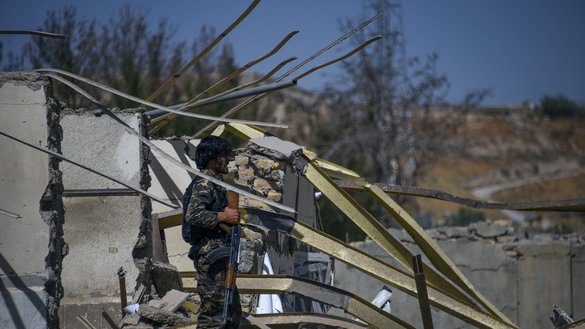 Karim now lives with his family of 13 in the desert in the Tazi Rabat area of Shah Joy District, where they do not even have a tent and have been forced to create makeshift shelters.
Haji Khairullah, 61, a resident of Maghlizo village in the Nawrak area, recounted how he also was forced to flee with his family.
"I was at home when a police checkpoint was attacked [on May 28], and I saw that the Taliban were shooting at the checkpoint," he said.
"Police didn't return fire because of innocent civilians living in the village," he said. "I asked the Taliban which religion allows them to attack the soldiers from our homes and orchards?"
"The Taliban first didn't listen to me, but then they expelled me from the fighting area [village] while calling me names, and gave me a warning that I had to move out of there within 24 hours," Khairullah said.
"As I couldn't fight against them, we packed and left for the Spina Ghabarga desert with tears in our eyes," he said. "This place is not suitable for living, but because of our fear of the Taliban, we had to come here."
Almost 200 families have fled their homes out of fear of the Taliban, said Mullah Khudai Ram, 57, a resident of Shinkay village in Atghar District of Zabul.
"The Taliban burned and looted the entire bazaar of the Atghar District centre last year," he said.
"Many families of 10 villages in the Atghar District centre have left for Marouf and Arghistan districts in Kandahar Province and Shah Joy and Shinkay districts in Zabul because they fear the Taliban's violence and oppression," he said.
Civilians injured by Taliban violence
"The Taliban have now turned homes into battlefields," Ram said.
For many, that brings the risk of death and injury.
Muhammad Rahim, 40, who was injured in a Taliban missile attack on May 20 in Shah Joy District, is still undergoing treatment at Sultan Malkhi Hospital in Qalat.
"I was asleep when the Taliban attacked a police checkpoint from the back of our home," he said. "The Taliban wanted to launch a rocket propelled grenade at the checkpoint, but it hit a corner of our home."
Rahim and four of his brothers were injured. "Government soldiers came after the clash and took us to the hospital," he said.
"I call on the Taliban to stop displacing us, and they must allow us to go back to our homes," said Rahim.
Meanwhile, Ahmadullah Haqmal, 33, a resident of the Takir area in Mizan District of Zabul, was injured by a Taliban land mine on May 30.
"The Taliban fired at the National Army from our home," he said. "When the army tried to come to our village, the Taliban started to plant a mine in a karez [a traditional irrigation system] near our home, but the mine exploded and killed two Taliban fighters and three civilians."
"I was in our orchard when shrapnel from the mine ... seriously injured me," Haqmal said. "Later, the army took me to a government health facility."
'Stop killing your brothers'
The Taliban's use of civilians' houses to launch attacks violates all human and Islamic values, religious scholars and provincial officials say.
They called on the Taliban to have mercy on civilians and to stop killing in the name of religion.
"Forcibly displacing residents from their houses and launching attacks on government installations and soldiers from there breach all human and religious values," said Maulawi Muhammad Dawood Mutaham, a religious scholar in Zabul Province.
"I call on the Taliban to stop killing your brothers and join the security forces in safeguarding the lives and dignity of your people," he said.
"After experiencing defeat during the past few months in face-to-face clashes in certain parts of Zabul Province, the Taliban resorted to a new tactic of launching attacks on security forces from civilians' houses," said Atta Jan Haqbayan, chairman of the Zabul provincial council.
"They wanted to create distance between the local population and security forces, but these evil acts backfired on the Taliban as the locals rejected their demands."
"This year, the Taliban planned to bring many places in Zabul Province under their control, but we are thankful to God that our brave security forces defeated them," said Gul Islam Siyal, spokesperson for the Zabul governor.
Security forces in Zabul plan to conduct operations soon in the areas where the Taliban have taken refuge in civilians' houses so that the displaced residents can return to their homes, he said.