HERAT -- Iran's growing influence on Afghanistan's reporters and media is raising alarm among the Afghan press community and its institutions.
"Currently, the influence of regional intelligence agencies, particularly that of Iran, on Afghan journalists threatens their lives and safety at work," said Humayun Nazari, director of the Committee to Protect Journalists (CPJ) office in Herat Province.
Journalists who dare to provide unflattering coverage of Iran have received threats from pro-Iranian colleagues.
"Iran has used various means to create rifts among reporters and has invested in a select group of journalists who try to hamper every [democratic] development in Afghanistan," Nazari told Salaam Times.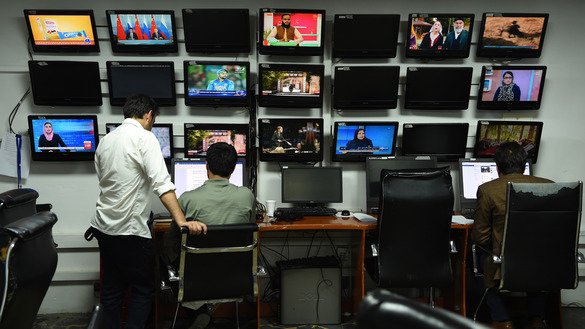 The Iranian consulate in Herat especially plays a key role, Nazari said.
"The Iranians have established and financed a number of news websites and daily papers in Herat over the past two years, mainly to block the rest of the journalists," he said, adding that this small group of Iranian-backed journalists does not produce any original news material but instead undermines and sabotages the work of other journalists.
"Two years ago, Iran exploited this group of so-called journalists during the elections of the joint press committee at the [provincial branch of Ministry of Information and Culture]," Nazari added, referring to a committee that includes members of NAI, an NGO that supports free media in Afghanistan; journalists; and officials from the police and National Directorate of Security.
"These elections and Iranian influence have laid the foundation for the rifts among the journalists, and these problems have festered until now," he said.
Dealing with foreign intelligence
"Cultural activists and journalists in Herat Province have felt the influence of foreign intelligence agencies for years, and there is evidence," said Hamid Momin, the director of NAI's Herat Province office.
"Unfortunately, the influence of foreign intelligence on the Afghan press community has steered media activities in Afghanistan to revolve around its interests," said Momin.
"While the activities of our journalists and the media serve as an important accomplishment and a strength of the Afghan government and the people, foreign intelligence agencies are trying to undermine them by portraying a negative image of these achievements," Momin told Salaam Times.
"They use various techniques -- for example, they recruit journalists to be on their side to promote their goals, including changing the positive role of the media in Afghanistan to something negative," he said.
"This could be very dangerous," Momin noted. "We have a media law, a law on access to information and a constitution in Afghanistan... Afghan leaders are supporting the media, but the interference of foreign intelligence agencies has been impeding all these efforts."
In one documented example, the Iranian consulate in Herat invites 15 to 20 local journalists to go to Tehran every year under the pretext of participating in a month-long training course.
Afghan journalists who previously attended these training programmes say that the Iranian government uses these programmes to brainwash journalists in an effort to prevent the spread of any negative opinions towards Iran.
More alarmingly, the Iranian consulate often selects Afghan journalists with negative viewpoints on Iran to go on such trips, hoping to sway their thinking and to recruit them to work on behalf of Tehran upon their return to Afghanistan.
"Iran wants to influence the journalists so that they see only the positive sides of Iran," said Farshid, a reporter using a pseudonym who previously participated in a Tehran-sponsored training course in Iran.
This is mainly because "Afghan journalists generally provide good reports on interference [in Afghanistan] by neighbouring countries, especially by Iran", he added.
Afghan government crackdown
The Afghan government is aware of the activities of foreign intelligence services in Afghanistan, especially those of regional countries, and is taking action against them.
"The press community and agencies that support journalists have shared these concerns with us, and we investigate these issues seriously through our security and intelligence agencies," Jilani Farhad, a spokesman for the Herat provincial governor, told Salaam Times.
"We promise that we will improve the public's access to information while our agencies investigate these cases, but it won't limit the flow of information to our citizens," he added.
"Afghan forces have arrested numerous individuals with ties with foreign intelligence agencies who presented themselves as journalists," said Noor Ahmad Karimi, a spokesperson for the Herat provincial office of the Ministry of Information and Culture.
"In order to process their cases, the security authorities have asked us to provide them with information about these suspects to ensure whether they are journalists or have any connection with any media agency," he said.
"One of the things that we all have to fully respect are our national interests, and everyone in the society must uphold them," Karimi said.
"But some amongst us disregard our national interests for material benefits and help foreign spy agencies to achieve their goals," he added.
"We condemn them, as they harm our national security," he said.