KABUL -- The Afghan government has launched a new computer-based testing system that allows civil service job applicants to be screened on merit in a move aimed at eliminating corruption, bribery and favouritism in hiring.
"Afghan specialists have created two software applications -- one for computer-based testing and the other for online sign-up," Farid Ahmad, a spokeswoman for the country's Independent Administrative Reform and Civil Service Commission (IARCSC), told Salaam Times.
"All Afghans can fill out an application form online for a particular job and submit it from anywhere in the country," he said. "They don't have to come to Kabul to submit their applications."
The systems were developed by Afghan engineers, Ahmad said.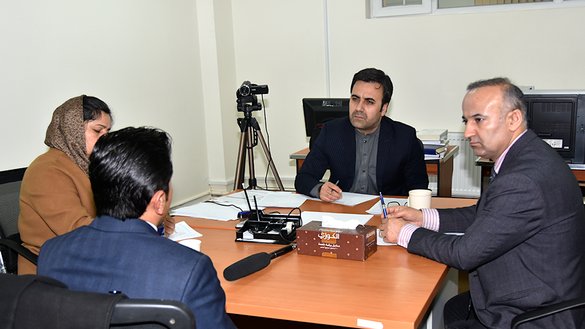 "Prior to this, we had many issues in the process of recruiting civil servants," Ahmad said.
"In the past, powerful individuals used their influence to recruit their relatives and friends and to ignore eligible and qualified candidates, and there were incidents of bribery. Candidates who weren't favoured from within the system couldn't get shortlisted," he said.
With the new system, a test-taker opens an account and sees a test on the computer screen. He or she receives the results immediately after completing the test, Ahmad said.
"The process of computer-based testing is very accurate and transparent, and it rules out any human intervention," said Ahmad. "This will allow qualified specialists to enter government agencies, and it will eliminate corruption in the long term."
Improving transparency
In the five months since the IARCSC introduced the computer-based system, "the chances of bribing, favouritism and interference by powerful individuals in the recruitment process have come down to zero, while the level of corruption also has dropped," Ahmad told the Salaam Times.
The level of corruption has "dropped after government agencies switched to electronic service delivery", he said.
The computer-based testing and digital service delivery are among recent efforts that have allowed Afghanistan to leave the list of the top five most corrupt countries in the world and could be considered "a government achievement in its fight against corruption", he said.
In 2017, Afghanistan scored 15 out of 100 on Transparency International's Corruption Perceptions Index (CPI), putting it at 177th out of 180 from least to most corrupt. This year, Afghanistan's score improved to 16 out of 100, placing the country 172nd out of 180.
"Numerous steps have been taken in fighting against corruption," Zia Danesh, a business-administration teacher at Gharjistan and Abu Rayhan universities in Kabul, told the Salaam Times.
"For example, the compilation and ratification of the Anti-Corruption Law, laws to support those who report corruption and the implementation of anti-corruption strategies are some of the legal achievements," he said.
The government's efforts to establish a special tribunal to try senior government officials and merge redundant anti-corruption institutions, among other areas, elevated Afghanistan's ranking on the index, Danesh added.
He touted the implementation of e-governance initiatives -- especially for fiscal practices such as customs duty and tax collection -- as well as the transfer of salaries through bank accounts and mobile money platforms.
In addition, strict monitoring and the digitisation of national procurement systems, reforms in human-resources management and the establishment of a competitive hiring system have helped reduce corruption in Afghanistan, he said.
"Thanks to the new administrative mechanisms, most of which are digital, a high level of transparency has been achieved in the recruitment process," Danesh said.
"Now, tests for civil-service positions are computer based and are conducted through an open competition," he said. "As test papers are checked by computers, human interference in the testing process has been greatly reduced."
"Merit-based recruiting has improved government agencies, made service delivery faster and more efficient, and reduced incidents of corruption," said Danesh.
A serious move against corruption
The government has made serious steps toward eliminating corruption, said Yama Torabi, director of the Monitoring and Evaluation Committee (MEC), a government agency tasked with monitoring the implementation of anti-corruption strategies in Afghanistan.
The government has brought about "major reforms in justice and legal institutions," he told the Salaam Times.
"Corrupt politicians -- from a low-rank civil servant to a minister and a three-star general -- have been tried and prosecuted. But most important, the tradition that powerful figures and senior officials were immune to legal processes has now ended," he said.
"Every corrupt official, no matter his or her rank, is responsible for his or her actions and is accountable before the law," said Torabi.
The government, relying on law enforcement agencies and the Justice Ministry, is developing a system to monitor officials and seize property obtained via corruption, according to Torabi.
"More than 170,000 senior officials, revenue collection and procurement servants and some attorneys and judges have registered their properties, and this campaign is in progress," he said.
"This effort has played a major role in reducing corruption," he added.