KABUL -- After years of concerted efforts on the part of the Afghan government to combat corruption, Afghans are seeing a tangible difference and welcome the change.
Afghanistan scored an eight on the 2012 Transparency International's annual Corruption Perceptions Index, where zero is highly corrupt and 100 is very clean. In 2017, after years of reforms and hard work, the country scored 15.
Since hitting that nadir in 2012, the government has made "unprecedented" achievements in its fight against corruption, according to Afghanistan's Special Anti-Corruption Secretariat, the institution responsible for monitoring the implementation of the country's anti-corruption strategy.
"The laws that existed previously did not address most of the corruption-related crimes; therefore, the government could not properly fight corruption and its perpetrators," Yama Torabi, chief of the secretariat, told Salaam Times.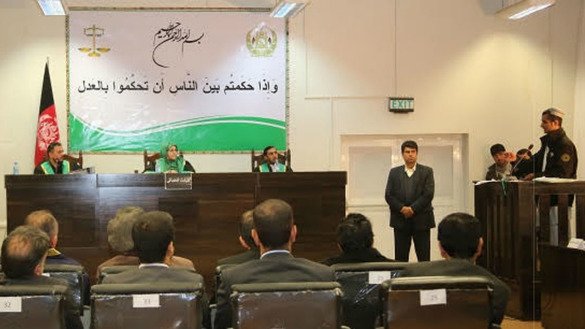 "Over the past nine months, the government has drafted 15 laws related to the fight against corruption in order to eradicate this blight," he said. "These laws enable the government to effectively fight corruption."
Prosecuting generals and senior officials
"[Afghan] judicial authorities and courts have tried more than 2,600 corruption cases over the past year, as a result of which senior government officials, including three-star generals, deputies and other high-ranking officials, have been charged with corruption and were imprisoned," Torabi said.
"The trial of a former minister for communications and information technology [Abdul Razzaq Wahidi] is under way, while two other ministers who have been accused of corruption are under investigation," he said.
"For the first time in recent years, the government succeeded in formulating a national anti-corruption strategy that is being implemented by all government agencies," Shah Hussain Murtazawi, deputy spokesman for the Afghan president, told Salaam Times.
In the past, one widespread corruption scheme involved putting non-existent "ghost" soldiers and police officers on the payroll and collecting their salaries, he said.
"Now, however, more than 90% of time sheets for Afghan army and police, as well as their salary payments, are done electronically," he said. "In other words, the number of non-existent police officers and soldiers has been drastically reduced."
Senior government officials, under the law, now must register their personal assets, he said, adding,"11,000 senior government officials have already registered their assets over the past four months."
Tangible results
Steps to ensure merit-based recruitment and hiring have helped fight the scourge of corruption.
"In the past, most hiring in government institutions was done based on nepotism, personal relationships and bribery instead of law and merit," Murtazawi said. "Now, however, all hiring in state institutions is based on law and open competition, following the implementation of the National Anti-Corruption Strategy."
"In the customs department, which was once a main driver of corruption, serious reforms and amendments [helped] thwart corruption to the tune of several million dollars," he said.
"In the past, anti-corruption campaigns were mere slogans; this time, however, the government is actually fighting corruption," said Gulalai Nur Safi, a representative from Balkh Province in the Wolesi Jirga (lower house of parliament).
"There have been many measurable reforms made in various institutions, especially in the Attorney General's Office and in courts, all of which reflect the practical steps taken by the government against corruption," she told Salaam Times.
The measures taken by the government to combat corruption are "promising," said Zia Danesh, a Kabul University professor who teaches about administrative reform.
"Creating a systematic theoretical framework for combating corruption, establishing judicial and criminal tribunals to prosecute former and current senior officials, attempting to modernise administrative structures and methods, working to adopt a model for the development of e-government, drafting numerous laws to combat all types of financial and administrative corruption, implementing financial reforms and erasing ["ghost"] soldiers in security institutions and non-existing teachers at the Ministry of Education are all part of the government's practical measures to combat corruption," he told Salaam Times.
Although room remains for improvement, the advancement by Afghanistan in the Corruption Perceptions Index is a noteworthy achievement in the fight against corruption.
"[It is] winning back the confidence and trust of the countries that are helping Afghanistan," Danesh said.
"The increase in women's participation in public offices is also seen as yet another positive manifestation of anti-corruption programmes," he said.
"In fact, the reform implemented by the Independent Administrative Reform and Civil Service Commission of Afghanistan over the past year has been able, to an acceptable extent, to raise the level of trust in meritocracy while also attracting educated elites to work at these public agencies."