QUETTA -- The "Islamic State of Iraq and Syria" (ISIS) is apparently shifting its focus towards Pakistan and India after its territorial defeat in the Middle East earlier this year.
ISIS recently announced the creation of "Pakistan Province" through its Amaq propaganda mouthpiece, when it claimed responsibility for killing a traffic police officer in Pakistani province of Balochistan May 12.
ISIS also claimed to have targeted Taliban fighters in Quetta May 14, and police in Karachi May 20.
Meanwhile, on May 10, ISIS claimed its "Hind Province" branch attacked Indian forces in the Indian-ruled portion of Kashmir.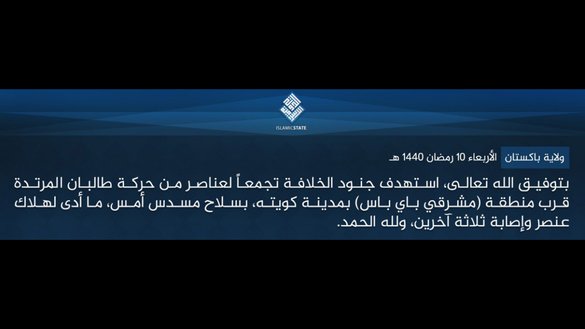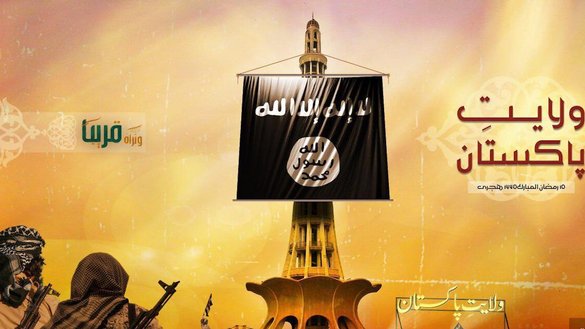 Both new ISIS "provinces" previously fell within ISIS's "Khorasan Province", the name the group uses to describe regional operations launched from bases in Afghanistan.
"The facilitators of ISIS may have a presence on our soil," admitted Aitzaz Ahmed Goraya, deputy inspector general of the Counter Terrorism Department (CTD) in Balochistan Province.
"ISIS basically sees Balochistan and other tribal areas of Pakistan as soft targets for its operations; therefore, it is trying to establish a footprint here," he said.
A counter-insurgency operation May 16 killed nine terrorists, including three commanders, at a training base linked to ISIS militants in Mastung, he said.
"From the militants' training base, heavy weapons, explosives, suicide jackets, ammunition and literature on the latest and sophisticated weapons training were seized," he said, adding that the National Database and Registration Authority is working to identify the dead militants.
Fighting militant propaganda
"It cannot be ruled out that ISIS is a potential threat to our national security, but in our region, the operational capability of this militant group is not yet as strong as it is in other parts of the world, including Afghanistan and Syria," a senior Quetta-based intelligence official told Pakistan Forward on the condition of anonymity.
"The ISIS propaganda network is much stronger than that of other militant groups," he said, adding that ISIS is "working here to strengthen its ideological and cyber warfare".
"ISIS has a strong media platform, and it is monitoring the content of online media around the clock for its strategic interests," he said.
For the past couple of years, ISIS has claimed responsibility for attacks not claimed by any other group in order to magnify its importance, the official said.
"Without local support, ISIS cannot achieve its goal in Pakistan," he said.
"The operational and communication capability of ISIS is largely dependent on social networking," senior Islamabad-based defence analyst Maj. (ret.) Omar Farooq told Pakistan Forward, urging authorities to block all social media accounts that publicise ISIS propaganda.
"Countering... the Taliban and ISIS on our soil requires a comprehensive strategy, and the security establishment of the country must adopt an actionable policy to address this rising threat," he said.