ASHGABAT, Turkmenistan -- Turkmen members of the "Islamic State of Iraq and Syria" (ISIS) have been scattered after the terrorist group's defeat in Iraq and Syria at the hands of the US-led coalition and the Syrian Democratic Forces.
"Some of them have relocated to parts of Afghanistan that border Turkmenistan; others have joined the Free Syrian Army, which is fighting against [Syrian President Bashar] al-Assad's regime," said a statement from the Vienna-based Turkmen Initiative for Human Rights (TIHR), citing sources in Turkey.
In 2016, a number of Turkmens travelled to Kerki (formerly Atamyrat) in Turkmenistan, said one TIHR source, citing a wounded Turkmen ISIS member he met in Latakia, Syria.
The group then illegally crossed into Afghanistan before heading to Syria via Iran and Turkey.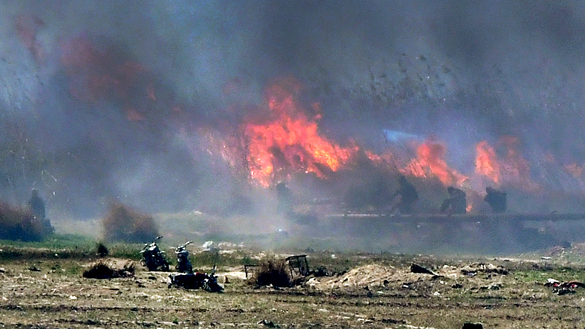 ISIS proselytisers recruited the group in Turkmenistan, according to the wounded militant.
"In all, there were 30 Turkmens, and six came with their families," the report said of that group.
The majority of ISIS militants in Homs, Syria, were Turkmens, according to TIHR.
"There were several hundred of them. They were indistinguishable from the others by their clothing and appearance (they all had beards); they tried to speak Turkish," TIHR said.
"But when they associated with Turkmen-Syrians, they didn't hide that they were from Turkmenistan," the report added.
Unknown number of Turkmen militants
The exact number of Turkmen nationals who have joined ISIS and other terrorist groups is not public.
The Soufan Centre, a US-based think tank, estimated in a 2017 report that more than 400 Turkmen citizens had joined ISIS.
The Turkmen government blocks information on the participation of Turkmens in conflicts abroad as well as on individuals accused of recruiting for ISIS.
Turkmen State Migration Service (GMS) officers have orders to "deny [when asked] any instance of participation by Turkmen citizens in events in the Middle East", said a GMS source in an interview.
"So if one of our citizens is captured or arrested for involvement in ISIS, we disown the story and say these are ethnic Turkmens from Afghanistan or from Iraq, or they're Turks, but not citizens of Turkmenistan," said the GMS source on condition of anonymity.
"Everyone knows that our people [Turkmens] are fighting there [in Iraq, Syria or Afghanistan] and that their path to ISIS runs through Turkey ... but it's impossible to calculate how many of them are there," the source said.
"In the past year and a half, there have been more than 10 such attempts in the jurisdiction of the Tagtabazar, Kerki and Serkhetabat GPS detachments, but they were thwarted by the joint actions of the border troops and special forces from the National Security and Interior ministries," according to a source in the nation's State Border Service (GPS).
"The violators were arrested. Several were forced to return from where they had come from," said the GPS officer on the condition of anonymity.
"You can understand them [the ISIS militants] -- they're in hot water, and they're getting beaten everywhere and by everyone. Now some of them are drawn home, to peaceful Turkmenistan, but even at home no one is waiting for them, and no one needs them," the GMS source said.
"In places where radicals appear, you need to expect turmoil, bloodshed and feuding. We won't allow it," he added.
Incidents on the border
Turkmen authorities do not disclose to the public the situation on the borders with Afghanistan and Iran, but stories of ISIS members' attempted return to Turkmenistan regularly surface.
Radio Free Europe/Radio Liberty (RFE/RL)'s Turkmen service for example, citing sources in the Turkmen Defence Ministry, reported in July 2018 that "about 50" militants, all Turkmen citizens, attempted to force their way into Turkmenistan in separate incidents over an undisclosed time period.
Turkmen forces captured about 30 of them, while the rest escaped, according to RFE/RL.
Turkmenistan's government has neither confirmed nor denied the report.
Still, the authorities have stepped up security along the country's southern borders, ordering a partial mobilisation of its reservists and conducting snap military exercises on its border zone.
Local analysts find credible the reports that ISIS members have entered Turkmenistan from Afghanistan, said Kasymguly, a lawyer for the Turkmen military prosecutor's office who withheld his last name.
Immediately after the alarming incidents, the commander of border troops at the time was demoted to colonel "for unsatisfactory performance of his official duties and for slackened monitoring of the service under his authority", Kasymguly said.