KUNDUZ -- In addition to her regular administrative and problem-solving duties, Saleema Mazari, the first and only female district governor in Balkh Province, also literally leads the fight against the Taliban in her home district of Chaharkent.
Since her appointment as the district governor two years ago, Mazari has often taken up arms and provided guidance to local forces in the district, situated 40km from Mazar-e-Sharif, the provincial capital.
"After I saw the smallness of our forces, I took a weapon to encourage them and, alongside them, attacked the Taliban," said Mazari.
"I sometimes visit the front line to ensure co-ordination between the security forces and local forces [popular uprising groups] and to advise the security forces," she said.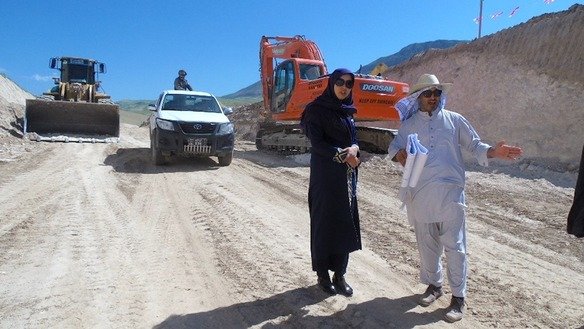 She will not allow the enemies of Afghanistan to threaten Afghan lives, she said.
"As the civilians had to defend their homes and land, we helped them set up a defence force," she said. "I am thankful to my people as they have been very helpful to their government."
Strength of women
"The presence of a woman, especially a woman district governor, signifies how much civilians hate the war and the Taliban," said Nasreen Alemdost, 25, a resident of Mazar-e-Sharif.
"It is a great honour for Afghan women to stand against the Taliban, who have restricted the freedom of women," she said.
"The weapons you see in the hands of our security forces, local uprising groups and local forces are a sign that they are tired of the war and are trying to ensure security," she said.
"We call upon the Taliban fighters to stop killing and to make peace by joining the peace talks," she added.
Ordinary Afghans "used to say that women don't have an [important] place in society... but I have now realised that women have a major role in our government", said Halima, a 16-year-old resident of Chaharkent District who goes by one name.
"We're getting stronger and stronger," she said.
"We got stronger when I saw our governor, who is a woman, encourage our forces," said Mahfoozullah Saadat, a police officer from Chaharkent District. "I will fight to my last drop of blood to defend the people of Afghanistan and bring security to them."
"My message to the Taliban is to join the peace process; otherwise, they will be killed," he said.
Supporting security forces
Ghulam Sakhi Lala, a Balkh Provincial Council member, asked the government to further equip the Afghan security forces in the district.
"In our meetings with the Balkh police chief and other authorities of the province, we asked [the government] to pay attention to the security of conflict-affected districts," Lala said.
"Afghans support the government and their security forces and prefer them to the Taliban," he added.
The Interior Ministry supports all police forces and especially those in Balkh Province, said Adel Shah Adel, a spokesman for the Balkh police chief.
"We reassure the residents of Balkh Province and its districts that the police forces are at their service around the clock...[we] expect them to notify their security forces when they see any suspicious activity," Adel said.
"We promise the public that it doesn't have to worry as long as we are active in this area," said Hafizullah Farooqi, one of the leaders of a local uprising group in Chaharkent District.
"Joint forces in this district are alert, and no force has the ability to defeat them," he said.