KUNDUZ -- About 280 Taliban fighters have laid down their weapons and joined the peace process in Balkh and Sar-e-Pul provinces since last month, say local officials.
Pressure on the Taliban increased after militants attacked Jundor village on September 16 as villagers refused to pay ushr and zakat. The assault left six members of one family dead and wounded several others, according to Saleema Mazari, the district governor of Chaharkent in Balkh Province.
Following efforts by tribal elders, 120 Taliban fighters, including child soldiers, were persuaded to surrender to local authorities on October 4, she said.
"After realising that war is not the solution, this group parted ways with the Taliban and joined the National Defence and Security Forces," Mazari said.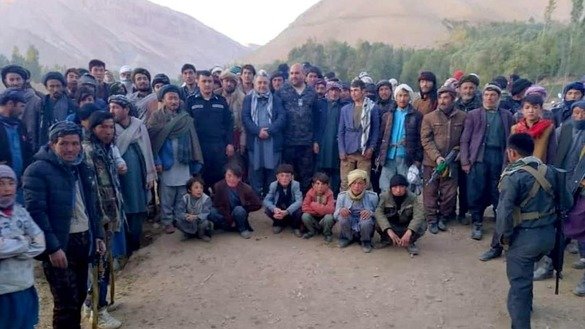 "While expressing their regret... this group handed over their arms and equipment to the defence and security forces," the Ministry of Defence announced Tuesday (October 6).
This group of Taliban was led by Mullah Khudaidad, an ethnic Uzbek, and had been fighting against the government for the last two years, according to Shamsuddin Sadaat, a tribal elder in Balkh Province.
"About 400 families live in Jundor village," said Sadaat. "Fortunately, with good co-ordination and regular communication, we convinced them [the Taliban militants] to surrender."
"Once they informed us of their readiness, and together with the district governor and the chief of the National Directorate of Security for Chaharkent District, we went to welcome them during the night and received 120 people according to the list," he said.
"They surrendered 120 weapons including Kalashnikovs, RPGs [rocket propelled grenades], DShKs [Russian machine guns], mortars and ammunition," Sadaat added.
Separately, 150 Taliban fighters joined the peace process Sunday (October 4) in Sar-e-Pul Province.
Pressure on Taliban fighters in Balkhab and Kohistanat districts by security forces led to their surrender, said Mohammad Hanif Razayee, a spokesman for the Afghan National Army's 209th Shaheen Corps based in Mazar-e-Sharif.
"One hundred and fifty Taliban including... local leaders of the Taliban abandoned violence and joined the peace process," Rezayee said.
"Some of the Taliban also are tired of violence and have inclinations toward peace," he said.
Time for peace
Afghans have suffered from two decades of war and destruction and no longer want to hear gunfire, said a number of Balkh residents.
"For the past year, our people in four villages were living in insecurity. There was fighting every day. The residents were being killed or injured daily," said Jafar Ali, 42, a resident of Chaharkent District.
"But with the surrender of this large group of Taliban, it is possible that security will improve and civilians can take a breath," he said.
"For the first time, an exceptional and historic opportunity has been provided to Afghans... the negotiations between Taliban and the Afghan government," said Maroof Naderi, a resident of Mazar-e-Sharif, referring to intra-Afghan peace talks being held in Doha, Qatar.
"The time for war has ended. The time for peace has arrived, and the involved parties must use this opportunity," Naderi said.
"The Taliban should not kill people of this country mercilessly under one name or another," said Farida Qayoumi, another resident of Mazar-e-Sharif.
"If the Taliban are after jihad, then against whom are they leading this jihad? Against the defence and security forces who pray five times a day in their positions?" Qayoumi asked.