KARACHI -- Taliban leaders are attempting to spin a damaging, ongoing investigation by Pakistan's Federal Investigation Agency into the numerous businesses and investments in Pakistan suspected of belonging to the group's leaders.
An investigation found evidence that former Taliban chief Mullah Akhtar Muhammad Mansoor owned a real estate business in Karachi, according to a First Information Report (FIR) submitted by the FIA's counter-terrorism wing in Islamabad on July 25.
Mansoor, who took leadership of the group in 2015, was killed in a drone strike in May 2016 while entering Pakistan from Iran.
Mansoor had two phony Pakistani identification cards and bank accounts and owned several properties and land in Karachi, according to the FIA investigation.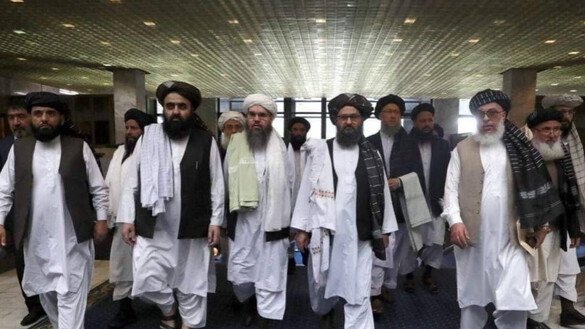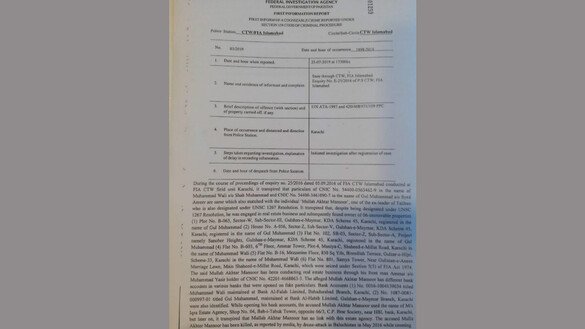 "It transpired that despite being designated under United Nations (UN) Security Council 1267 Resolution, he was engaged in real estate business and subsequently found owner of six immovable properties," the FIR said, referring to a UN resolution mandating sanctions against the Taliban and al-Qaeda.
Mansoor's properties included a house, a plot and four flats situated in the affluent areas of Gulshen-e-Maimar, Gulzar-e-Hijri and Shaheed Millat Road in Karachi, according to the report.
Mansoor also had several bank accounts registered under a real estate agency. Investigators found no actual link between the bank accounts and the agency.
Mansoor ran his business under an alias and used a fake ID card, added the report.
Previous research has noted the Taliban's business ties to Pakistan.
Secret 'posh life'
Upon hearing of the FIA report, the Taliban reacted angrily, releasing a number of statements on various social media channels in multiple languages denying the findings, and saying Mansoor had "neither the time nor money" to launch such businesses.
For years, Taliban leaders have presented themselves humble servants of their cause, and have been careful to hide their business dealings in obscurity.
However, the increased criminal nature of their group over time -- now being Afghanistan's top drug cartel, extorting schemes, etc. -- has enriched its leaders immensely, while the victims of the terrorist attacks and the rank-and-file members of the group continue to exist in abject poverty.
The Taliban have established businesses in Pakistan, notably Karachi, and in the United Arab Emirates, said Safi Agha, an Afghan community elder in Karachi.
Such businesses include construction and transportation firms that launder money, he said.
"These businesses are apparently used to support militancy ... in Afghanistan, but most Taliban leaders are secretly running their businesses in a personal capacity," Agha said.
Taliban commanders do business mostly through Pakistani front men, he added.
The arrests of top Taliban leaders in Karachi also suggest business ties to the area.
Such leaders have included Mullah Abdul Ghani Baradar, political deputy of the Taliban and head of the group's Doha political office, and Amir Muawiya, the group's liaison officer for al-Qaeda militants based in Pakistan's tribal areas, among others.
"They [the Taliban] are hypocrites and frauds. They use the name of religion and jihad to exploit the innocent but in fact run businesses in Karachi's affluent areas for personal economic gain and greed," said Ashraf Zada, a refugee who migrated to Karachi from Helmand Province, Afghanistan, after the Taliban seized control of the area in the 1990s.
"We who suffered from their atrocities have been forced to live in misery in the city's slums," Zada said, explaining how he brought his family of eight from Helmand to escape from Taliban violence.
"But Afghan Taliban are living a posh life by spending huge investment collected through various illegal means, especially extortion, in businesses."
In Pakistan, Afghan Taliban regularly collect large amounts of money from affluent refugees through extortion campaigns, and threaten their families back in Afghanistan if they fail to pay it.
"Even some of its small-time supporters collect extortion money from poor refugees in the city's lower-income neighborhoods," he said.
Karachi's trucking industry, dominated by Pashtun businessmen, carries almost all supplies to Afghanistan.
"To prevent Afghan Taliban attacks on our trucks, we regularly pay them protection money," said Asadullah Shinwari, said a trucker in Karachi.
He said Taliban militants are also collecting huge sums from truckers bringing marble and talc stones from Afghanistan, especially Nangarhar Province.
"Afghan Taliban militants collect the money through extortion, get rich and start their own businesses, but sadly, use the name of Islam for illicit activities," Shinwari said.