ISLAMABAD -- Pakistani authorities are introducing new measures to crack down on money exchange dealers and others smuggling US dollars to Afghanistan.
With Afghanistan's economy on the brink of collapse since the Taliban seized power in mid-August, the Afghani has depreciated and billions of dollars in Afghan reserves are frozen abroad as the international community has so far refused to recognise the new government.
With funds frozen, Da Afghanistan Bank (DAB) in August set a temporary withdrawal limit of $200 per week for a single customer. It also limited merchants and owners of private companies to a total of $25,000 in withdrawals per month.
That $200 limit was increased to $400 on Wednesday (November 3).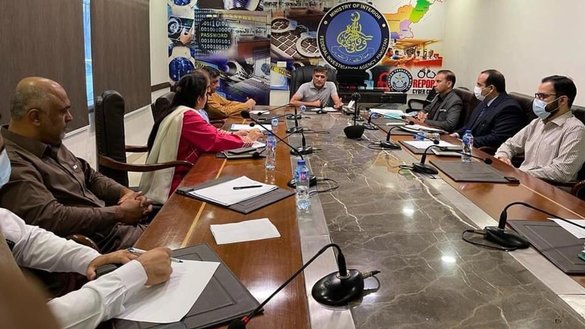 Meanwhile, many transactions inside the country are conducted in US dollars, and in areas close to southern border trade routes Pakistani rupees are used.
Further squeezing Afghans' wallets, the Taliban on Tuesday (November 2) announced a ban on the use of foreign currencies.
"The economic situation and national interests in the country require that all Afghans use the Afghani currency in every transaction," Taliban spokesman Zabiullah Mujahid said in a press statement.
Ripple effect
As the supply of US dollars in Afghanistan started to drop, some exchange companies and individuals in Pakistan began smuggling dollars across the border, according to Federal Investigation Agency (FIA) officials.
The situation has impacted dollar exchange rates and devalued Pakistani rupees, said Zaheer Abbas, a money exchange dealer in Karachi.
"Demand for US dollars in Afghanistan is on the rise, and a large number of US dollars are being smuggled to it from Pakistan since the fall of Kabul," he said.
Fitch Ratings, a New York-based credit rating agency, on September 30 revised its forecasts for the Pakistani rupee downward, citing the situation in Afghanistan, Reuters reported.
"Our expectation for the currency to weaken further is based on Pakistan's worsening terms of trade, tighter US monetary policy, alongside the flow of US dollars out of Pakistan and into Afghanistan," it said.
The Pakistani rupee on October 27 fell past Rs. 175 against the dollar for the first time in history and stood at an all-time low of Rs. 175.27.
Tighter controls
To help put the breaks on the downward trend, the Pakistani government has ordered the FIA to crack down on the illegal hoarding and smuggling of dollars.
According to customs officials, about $2 million was being smuggled to Afghanistan each day, Business Recorder reported on October 6.
The FIA has begun tracing "individuals who recently bought the greenback from foreign exchange companies amounting to $63 million and sent them to Afghanistan," an FIA official told Business Recorder on October 13 on condition of anonymity.
The agency has identified and named about 96 real estate developers, money exchange dealers, educational institutions and online marketplaces in Pakistan that purchased US dollars in bulk for hoarding purposes, the official said.
Authorities have ordered the identified offenders to appear before investigators, he added.
Meanwhile, the State Bank of Pakistan (SBP) is now requiring biometric verification for those seeking to buy $500 or more from the open market.
Previously, anyone could purchase dollars from exchange companies by providing a copy of his or her national identity card.
"The exchange companies will be required to conduct biometric verification for all foreign currency sale transactions equivalent to $500 and above and outward remittances," the SBP said in a statement on October 7.
Each person travelling to Afghanistan will be allowed to carry a maximum of $1,000 per visit, with an annual limit of $6,000, according to the measures taken by the SBP.