HERAT -- More than 1,000 male and female educators gathered Wednesday (October 20) at Mawlana Jalaluddin Mohammad Balkhi Hall in Herat to demand that the Taliban government pay four months' worth of unpaid salaries.
When the Taliban took over the country in August, the previous government owed the teachers some pay, and the Taliban have since not paid them anything.
The unpaid salaries are causing severe economic challenges for teachers, who criticised the Taliban for failing to keep their promises.
Teachers no longer have sufficient resources to feed their families and have been forced to beg for money, said Mohammad Sabir Mashal, director of the Teachers' Union in Herat.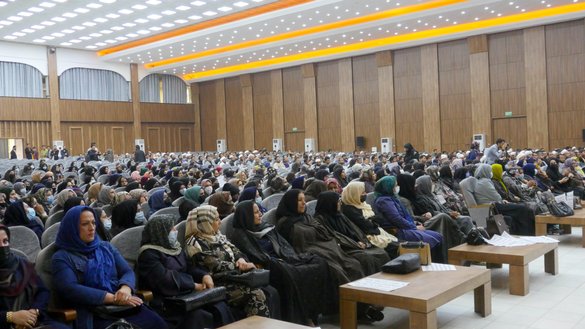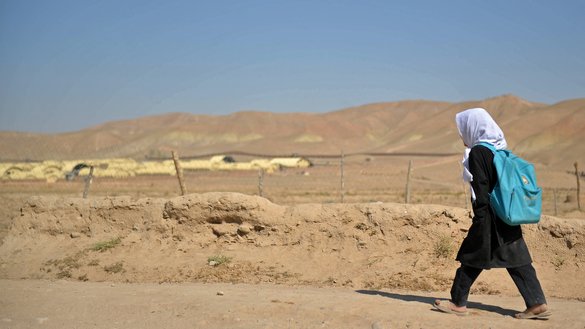 "For the past four months, many teachers have been selling their household items or valuables and using that money to buy food for their children," he said.
In addition, many teachers have been forced to quit their jobs rather than keep going unpaid, Mashal said.
The problem is nationwide and near universal, with the Taliban having paid only a handful of civil servants one month's salary so far.
Four months of unpaid salaries, compounded with the general economic crisis in Afghanistan, has many teachers in distress, said Basir Ahmad Hakimi, a teacher in Herat.
The Taliban have made a commitment to pay only three months of salaries, but they have not delivered it yet, he said.
"I have seven children, and I am worried that if my salary is not paid soon, I may lose my children to starvation and lack of medicine," Hakimi said.
"Because I have not paid my electricity bill for the past four months, Da Afghanistan Breshna Sherkat has cut off electricity to my house and we are now in the dark at night," he added.
Poverty and hunger
Some 18,000 teachers work in public schools in Herat province, including 10,000 women.
Masuma Foshanji, who has taught at a girls' school in Herat city for 25 years, said she is experiencing the worst days of her life.
Under the economic strain, she has to send her children to school without breakfast.
"Whenever I come back from school, I see my children falling asleep because they haven't eaten," she said. "We do not have rice, oil or gas at home."
"For a mother, the situation is unbearable," Foshaniji said.
"The Islamic Emirate claims it is the legitimate government in Afghanistan and continues its efforts to seek international recognition, but its official employees have been forced to beg after not receiving their salaries," she said.
Arzo Sekandari and her husband, who are both teachers, cannot satisfy their family's basic needs.
"We do not have a loaf of bread at home," Sekandari said. "Meanwhile to whom do we complain? We are passing the most difficult days in our life."
"I have not paid my electricity bills for four months," she said. "We have been borrowing for three months, and the shopkeepers are no longer lending to us."
Latifa Alizai, another teacher in Herat city, said teachers have been borrowing for several months from their relatives and shopkeepers to survive, but nobody is willing to lend them any more.
"My child is sick, and I cannot take her to the doctor because I have no money," she said.
Even before the Taliban takeover, "we had insufficient salaries; therefore, we couldn't save anything," Alizai added.
"The government has not paid us for four months now, and we do not have money to buy a loaf of bread," Alizai said.
Failed governance
Mawlawi Shahbuddin Saqib, the Taliban director of the Herat Education Department, told journalists Wednesday that one month of teachers' salaries would be paid in the coming days.
The latest announcement came after the Taliban deputy provincial governor of Herat, Mawlawi Shir Ahmad Mahajir, said at a news conference October 5 that the provincial government had processed teachers' salaries and would distribute them in the coming days.
However, no progress was seen over the past two weeks.
It seems like the Taliban have no money to pay public servants, said Mohammad Nader Sarwari, a teacher in Herat city.
"The Taliban's sources of income are very limited, and the group cannot run the government with empty pockets," he said.
"The Taliban have toppled an established government, and they must now bear the responsibility, like the previous government, of providing services and paying the salaries of public servants, including teachers," Sarwari said.
The Taliban must positively respond to the demands of the international community so that it unfreezes Afghanistan's assets, he said.
The Taliban cannot govern with empty pockets, agreed Hasibullah Ahmadi, a civil society activist in Herat.
"If the Taliban cannot pay government employees soon, most of them will have to quit their jobs," he said.
"Losing the existing experienced and skilled employees will have a negative consequence on the Taliban government, because the illiterate people of this group have no familiarity with the system of government," he added.