LAGHMAN -- Taliban fighters who surrender, renounce violence and join the peace process in Laghman Province will receive a plot of land and be offered jobs to help restart their lives, local authorities say.
"I will give a respectable life to those fighters who join the peace process," said Laghman Governor Asif Nang on September 8 during a ceremony marking the surrender of 12 Taliban members in Mehtarlam, the provincial capital.
"All the fighters who lay down their weapons and join in will each receive a plot of land on which they can build a home for themselves -- this is an obligation for us."
"This is a war for others, and since [your surrender] you have observed how much is everyone committed to being Muslim here," he added. "You were killing people, but I think you now regret that."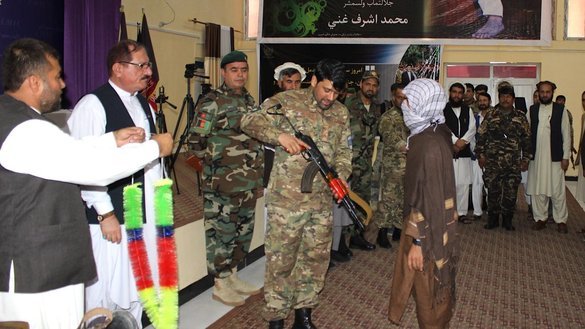 The provincial government will find jobs for the ex-militants, he said.
"We'll will work with businesspeople and [public] organisations to find them jobs in the public and private sectors," he said.
Authorities in Laghman say that they have been speaking with many more Taliban fighters who intend to quit fighting.
'We were shooting our own brothers'
The surrendered fighters said at the ceremony that they had become tired of the insurgency and decided to lay down their weapons.
"We no longer want to fight; we want to live in peace," Abo Hamza, leader of the surrendered group, said at the ceremony.
"When we fought here, we thought they [the government] were on the wrong path and that our fighting was legitimate," he said. "But now we have realised that we were shooting our own brothers. We were the enemies of our own brothers, but we no longer want to continue this."
Giving the surrendered fighters a chance at a new life should inspire other militants to give up their insurgency, said Gulzar Sangarwal, a member of the Laghman provincial council.
"We welcome those Taliban fighters who want to make peace," he said in an interview. "It is a great step to give them plots as it will encourage more Taliban fighters to renounce violence and join the peace process. This is great news."
"According to my information, the Taliban live desperate lives in the mountains," he added. "They want to come down [from the mountains] and return to a peaceful life. We will try to open the door for these disgruntled brothers of ours to join in and renounce violence."
"If we try a bit harder, I am sure that more Taliban will surrender," said Sangarwal.