LAGHMAN -- Thirty members of the "Islamic State of Iraq and Syria" (ISIS) including Mawlawi Feroz, the group's shadow governor for Laghman Province, surrendered on March 19 in Mehtarlam.
"These Daesh fighters ... were operating in the mountains of Alingar District of Laghman as well as in Chapa Dara District and other parts of Kunar Province," Laghman Governor Asif Nang told reporters at a ceremony marking the surrender, using another name for ISIS.
"These fighters were misguided and were fighting supposedly in Islam's name. They have now realised the reality that this war is not for Islam, so they have returned and laid down their weapons to avoid further bloodshed," he said.
"The main area of activity of these fighters was Kunar Province," Nang added. "Therefore, their surrender will play a very positive role in the improvement of security in the region."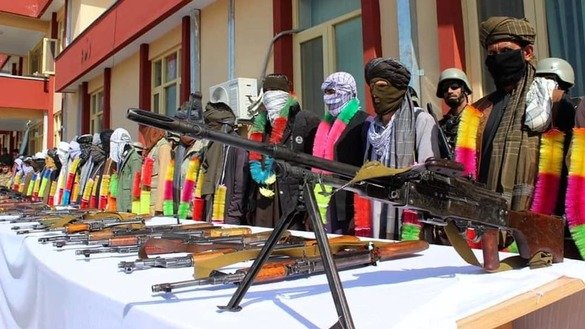 "All necessary support will be considered for these fighters including assisting them and their family members and providing them with security and work opportunities," he said.
Stepped-up security operations forced the ISIS militants to give up their fighting, said Brig. Gen. Ghulam Haidar Rahmanzoi.
"Today these Daesh fighters, including their shadow governor for Laghman, surrendered to the government largely thanks to the operations conducted against them by the Afghan forces, which denied them the space to operate," he said at the ceremony.
These members of ISIS hail from different districts of Laghman Province, said Rahmnanzoi.
Encircled
Feroz, the surrendered ISIS shadow governor, said his group gave up after being surrounded and attacked by Afghan security forces and the Taliban.
"We were operating and fighting in Chapa Dara, Manogi and other districts of Kunar Province," he told reporters. "We would fight a lot with the Taliban."
"We were further encircled there. Both the government forces and the Taliban were attacking us," Feroz added. "We had no option but to surrender."
"Another reason behind our surrender was that we realised that this war is not for Islam," he said. "Afghans are dying on both sides, so why should we kill our Afghans and destroy their homes?"
Gulab Ibrahimi, a civil society activist and resident of Laghman Province, said he hopes the surrender of the militants will lead to improved peace prospects in the region.
"We are very happy to see even one person come and lay down weapons, as it leads to a reduction in violence and improvement in security," he said. "This war has been imposed on us. By now we should realise that no outsider will rebuild our country. We must work by ourselves and work hard."
"We also call on the Taliban to abandon their fight and make peace," he added. "War did not give us anything but misery, so why should we continue it? From now on, let's work for peace."