KABUL -- Afghanistan is ramping up security in preparation for the presidential election scheduled for Saturday (September 28), with more than 100,000 security personnel ready to ensure a safe election day.
"Security agencies have worked for months on the election security plan, and they now have all the preparations in place to ensure security for the election," said Nasrat Rahimi, a spokesman for the Interior Ministry.
"[More than] 100,000 security personnel have been assigned to provide security to the voting centres, voters and the overall election," he said. "We reassure [our] citizens that they can participate in the election without any fear and cast their vote to elect their future leader."
"[Around] 72,000 National Police, National Army and National Directorate of Security forces will guard the voting centres on election day and ensure better security, while another 30,000 personnel will be on alert and will be deployed as needed," he said.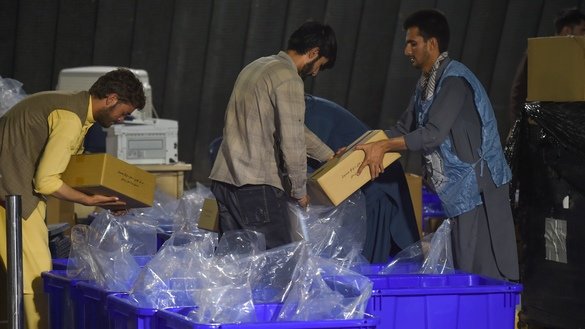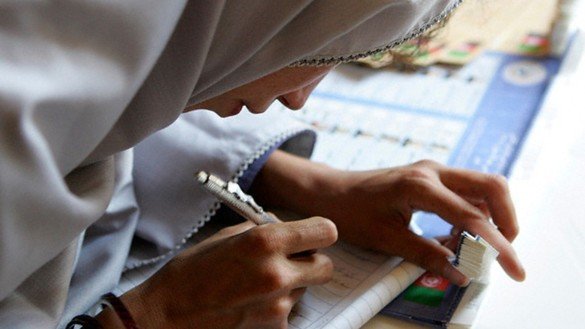 The Ministry of Defence is also reassuring citizens that the Taliban have suffered heavy casualties and lost their ability to disrupt the election and harm voters.
"Since the beginning of Operation Khalid, thousands of Taliban fighters including their key figures have been killed and injured in operations conducted by the security forces," said Fawad Aman, deputy spokesperson for the Ministry of Defence.
The Afghan National Defence and Security Forces launched Operation Khalid in March to counter the Taliban's annual spring offensive.
The Taliban have ceded control of seven districts, and efforts are under way to capture other areas from the militants, Aman said, adding that military pressure has forced many Taliban fighters to surrender to security forces.
Citizens insist on voting
While security is still a concern for many citizens, the chance to vote supersedes those fears.
"Three months ago, I pasted a sticker on my national ID, and I am really happy that I can vote for my favourite candidate for the first time in my life," said Aziz Ahmad, 19, a high school graduate from Kabul Province.
"I will vote for the one who has a vision, who will serve the young generation, and create higher education opportunities and jobs for youth," he said.
"I am worried about insecurity, but I am determined to vote and take part in the election to say 'no' to the Taliban and their anti-democracy beliefs, and to uphold democracy," Ahmad said.
"Men and women have equal rights, and elections are a great opportunity for women to take part and change their future and achieve their goals," said Florance Samimi, 27, a Kabul University student.
"I am not afraid of the Taliban's threats and attacks, and I will definitely take part in the upcoming election to uphold democracy," she said. "Unlike in the Taliban's emirate, women in a democratic system can achieve their rights and demands."
"I call on all the women who are eligible to vote to go to the voting centres and cast their votes in order to keep democracy alive and achieve their rights," Samimi said.
A peaceful transfer of power
Elections are the only option for the peaceful transfer of political power, said Zarif Aminyar, a political affairs analyst in Kabul.
"The Taliban try to block the elections and democracy because they don't believe in voting as a civil right or in elections as a component of democracy," he said.
"Civilians should prove to the Taliban by their huge participation in the elections that there is no other option besides the election and democracy to attain political power," Aminyar said. "No party can rule the citizens with violence and war."
For its part, the Independent Election Commission of Afghanistan (IEC) has completed the technical preparations necessary to hold the election on September 28, said IEC spokesperson Zabiullah Sadaat.
"Training programmes for our election personnel have been completed in most of the provinces," he said.
"Essential election supplies have been transferred from the provincial centres to 130 districts, and the remaining districts will receive the supplies by September 27," Sadaat said.
"The Independent Election Commission calls on the public to participate in the election as it is a national process," he said. "Citizens' participation and co-operation in the election and their monitoring role in the process can help us conduct a transparent election that is acceptable to everyone."
"We reassure the public that we'll protect its votes," he added.