KUNDUZ -- Afghan forces in Takhar Province have cleared 45 villages of the Taliban after thwarting a militant attack on Taloqan city one day before presidential elections.
Operations are still taking place in Baharak, Khwaja Ghar and Dasht-e-Qala districts and have left 89 Taliban members dead and another 65 wounded, according to officials.
Afghan forces cleared Darqad District of the Taliban on Monday (October 14), killing at least 12 Taliban fighters and wounding 8 others, according to Abdul Khalil Aseer, spokesperson for provincial police.
The Taliban attacked parts of Khwaja Ghar and Baharak districts on September 23 but were driven back by Afghan forces on October 5, said Muhammad Jawad Hejri, a spokesperson for the Takhar governor, on October 7.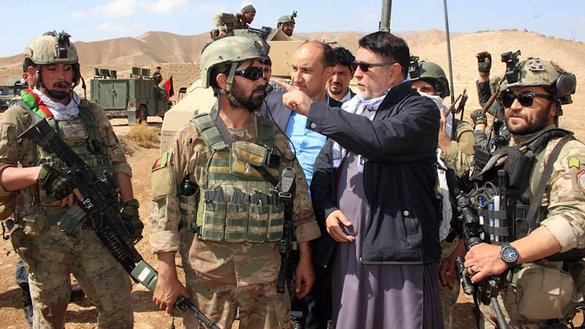 "These operations will continue until all parts of this province are cleared of the Taliban," said Hejri.
"The Taliban have been defeated in these areas because of military pressure, and the reason our operations proceed slowly is to protect the lives and property of civilians, as the Taliban have taken refuge in civilians' homes," Deputy Minister of Defence Gen. Muhammad Yaseen Zia told local reporters on October 5 in Taloqan city.
"We won't allow the Taliban to achieve their evil goals," said Zia, who is leading the operations. "We'll fight them to the last drop of our blood."
"We have defeated the enemy both from the air and on the ground all over Takhar Province," said Takhar Police Chief Sayed Mirajuddin Sadaat on October 6 at a press conference.
"They don't have mercy on anyone," he said. "They even planted mines inside a mosque. They harmed local residents and looted their houses."
"Those who don't have mercy on Afghans, they don't have a place in Afghanistan and they must be killed," said Sadaat.
"When there is no security, nothing is protected -- even praying [in mosques] is not safe," said Wafiullah Rahmani, chairman of the Takhar provincial council, as he praised the efforts of security forces.
Ruining ordinary Afghans
"The Taliban are trying to impress the Central Asian countries and Russia by capturing the border areas of Takhar," said Abdul Saboor Hashemi, a political analyst in Takhar Province.
That is why the Taliban's attacks are mainly focused on the districts north of the Kokcha River and in the region beyond the Kokcha River, including Khwaja Bahauddin, Dasht-e-Qala, Darqad, Yangi Qala, Chah Aab and Rustaq districts, he said.
The effort comes at the expense of Afghans. The militants looted civilians' houses, said residents of Khwaja Ghar District, which the Taliban held for about 10 days.
Most residents of the district centre left their homes after the Taliban struck. When they returned, they found that the militants had stolen everything. The same insurgents set other houses on fire.
"The Taliban ruined our people," said Juma Khan Ashrafi, 44, a resident of the district centre. "They have lost their homes and livelihoods."
"They forced us to leave our homes," he said. "They set up their base in our home and stole all our belongings."
"The Taliban set fire to the houses of civilians," said Dadullah Salimi, 38, another resident of Khwaja Ghar. "They destroyed everything they [the civilians] had.
"The ceilings of our rooms have collapsed," he added, referring to damage possibly from combat.
"I don't know how my family and I can rebuild my home. Winter is so near, and I can't afford to fix it," he said.