The US military released video and photos on Wednesday (October 30) of the October 26 raid by US special forces that resulted in the death of "Islamic State of Iraq and Syria" (ISIS) leader Abu Bakr al-Baghdadi.
Imagery released included black-and-white footage of US troops approaching on foot the high-walled compound in northwestern Syria where al-Baghdadi was holed up.
The military released video of air strikes on a group of unknown fighters on the ground who opened fire on the helicopters that ferried US forces in for the assault on al-Baghdadi's compound in Idlib Province.
The raiders recovered a "substantial" amount of electronics and documents, said Marine Corps Gen. Kenneth McKenzie, commander of US Central Command.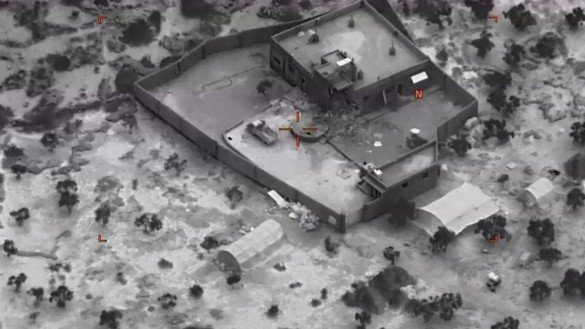 Examiners identified al-Baghdadi through comparison with his DNA, which had been on file since his 2004 detention in an Iraqi prison, said McKenzie.
Al-Baghdadi's remains were flown back to the staging base for the raid for identification and then buried at sea within 24 hours of his death "in accordance with the laws of armed conflict", he said.
$25 million reward
An informant who provided crucial details on the movements of al-Baghdadi is likely to scoop up some or all of a $25 million reward, the Washington Post reported Wednesday.
The informant was a well-placed ISIS operative who facilitated al-Baghdadi's movements around Syria and helped oversee the construction of his Syrian hideout, said the Post.
The informant was at the scene as the raid unfolded and was exfiltrated two days later with his family, added the Post.
The man, whom Washington did not identify, is likely to receive some or all of the $25 million reward the United States had put on al-Baghdadi's head, it said.
Besides al-Baghdadi's movements, the informant knew the room-by-room layout of al-Baghdadi's final Syrian hideout, according to the Post.
The source, described by one official as a Sunni Arab who turned against ISIS after the group killed a relative, was cultivated by Kurdish intelligence, said the newspaper.