JALALABAD -- In a four-room house in a Jalalabad neighbourhood, women can be seen busy weaving carpets, sewing dresses and embroidering decorations on clothing.
About 100 women, mostly widows whose husbands were killed by Taliban fighters, are earning a living thanks to Najiba Sahibzada, 55.
Sahibzada is the widow of a military officer who was killed during Dr. Najibullah's government (1987-1992). She decided after his death that her calling in life going forward would be to provide opportunities for other widows of fallen soldiers.
"I live with my mom, who is old and suffers from heart disease," said Sahibzada. "I spoke with her about starting a business, and she told me not to be afraid."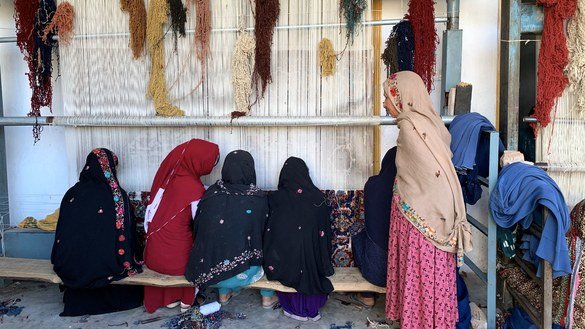 "She said to me that if I were to get involved in a business that only provided me with a job, it would benefit only me. So she asked me to start a business that would engage other sisters (other widows) as well so that they can have a livelihood too."
"Therefore, I decided to rent this house and make an investment," she said. "Now, about 100 women, among whom 60% are widows of soldiers, work with me."
"They're the sole breadwinners in their families. They work with me in carpet weaving, embroidery and sewing of dresses, and they earn a fair amount of money that helps them live a decent life," Sahibzada said.
Mahbooba, who is from from Khogyani District, Nangarhar, is one of the workers at Sahibzada's house. Her husband served in the national army and was killed two years ago during a battle with the Taliban in Helmand.
"My husband served with the army in Helmand," Mahbooba said. "After he was martyred [in Helmand], we didn't have anything [any income]. I am glad that someone showed me this place."
"I am busy with sewing clothes and embroidery here. I earn 4,000 to 5,000 AFN ($51-$64) a month, and I try to live on that," she said.
"I live in a rental house and raise my children by myself," she added. "My nine-year-old daughter is in third grade at a private school, and this is how our life goes by."
A place for children too
Samina, Mahbooba's daughter, said she enjoys coming to the house with her mom.
"I am happy that I can come with my mom," she said. "I study, and when I get out of school, I come here with my mom where I work with her or just stay with her."
Saima, whose son and brother-in-law were killed in Helmand and Nangarhar, respectively, while serving in the military, said she and her daughter-in-law embroider decorative patterns on the necklines of women's clothes and now have a decent life.
"We're happy that we are at least not begging, and this generous woman has given us jobs that help us live," she said.
She expressed hope that her grandchildren will be able to have a prosperous and fulfilling life.
If government and non-government organisations (NGOs) give Sahibzada's business some support, she will be able to expand operations and create jobs for even more women, said Sahibzada.
"I have spoken with many NGOs that assured me of support," she said. "If this happens, hundreds of more women will find jobs that will improve their livelihoods."
The local government will do what it can to support Sahibzada, said Ataullah Khogyani, spokesman for the Nangarhar governor.
"Yes, we are aware that Ms. Sahibzada has created jobs for many women out of her empathy," said Khogyani. "We will speak with relevant government and non-government agencies to help Najiba's business facility so that it can create jobs for more women."