TEHRAN -- Iranian authorities are carrying out a "vicious crackdown" in the wake of anti-government protests that started last month, arresting thousands of protesters, journalists, human rights activists and students, Amnesty International reported Monday (December 16).
A shock decision to impose petrol price hikes sparked the nationwide demonstrations on November 15.
At least 304 people were killed and thousands injured between November 15-18 "as authorities crushed protests using lethal force", according to Amnesty International.
Between 120,000 and 200,000 people took part in the protests, say Iranian officials. The government has not provided an official count of protesters killed, injured or arrested.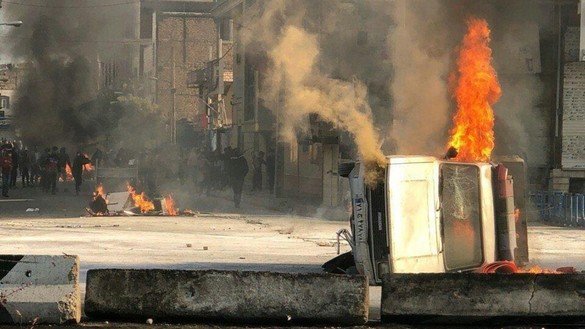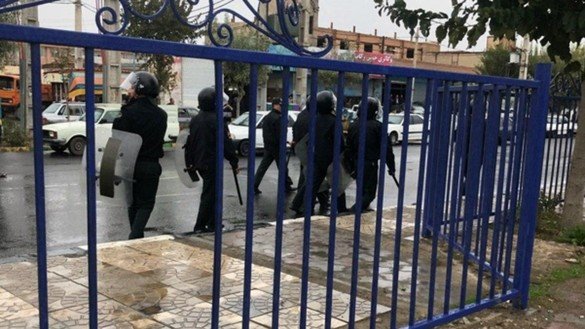 "Harrowing testimony from eyewitnesses suggests that, almost immediately after the Iranian authorities massacred hundreds of those participating in nationwide protests, they went on to orchestrate a wide-scale clampdown designed to instil fear and prevent anyone from speaking out about what happened," said Philip Luther, Middle East and North Africa research director at Amnesty International.
"Without urgent international pressure thousands will remain at risk of torture and other ill-treatment," he said.
Detention with impunity
The London-based organisation interviewed dozens of people inside Iran who described how "Iranian authorities have held detainees incommunicado and subjected them to enforced disappearance, torture and other ill-treatment" in the days and weeks following the protests.
Hundreds of detainees -- including children -- were brought in trucks to Rajai Shahr prison in Karaj, Alborz Province, "credible sources" told Amnesty International. Handcuffed and blindfolded detainees are punched, kicked, flogged and beaten with batons by security forces on a daily basis, they said.
In dozens of cases reported to Amnesty International, detainees are denied access to lawyers and have had little or no contact with their families. In some cases the conditions of detention amount to "enforced disappearance".
The mothers of a group of minority rights activists who were arrested during raids in East Azerbaijan Province and West Azerbaijan Province said the authorities told them they had "no intention" to provide them with information.
"We can do whatever we want with your children. We can detain them for however long we want, even for 10 years... We will execute them, and you will not be able to do anything about it," one official said.
Iranian forces 'shooting to kill'
United Nations (UN) High Commissioner for Human Rights Michelle Bachelet on December 6 expressed alarm at the Iranian regime's continuing lack of transparency about casualties and the treatment of detainees.
At least 7,000 people have reportedly been arrested in 28 of Iran's 31 provinces, the UN Office of the High Commissioner for Human Rights (OHCHR) reported.
Bachelet said she was "extremely concerned about their physical treatment, violations of their right to due process, and the possibility that a significant number of them may be charged with offences that carry the death penalty, in addition to the conditions under which they are held".
Amnesty's Digital Verification Corps, backed by witness testimony, confirmed the authenticity of video footage showing "Iranian security forces opening fire on unarmed protesters who did not pose any imminent risk".
The majority of deaths the organisation recorded were the "result of gunshots to the head, heart, neck and other vital organs indicating that the security forces were shooting to kill".
OHCHR also confirmed the Iranian regime's use of brutal force against unarmed protesters.
"Security forces responded to the protests with water cannon, tear gas, batons, and in some cases live ammunition against unarmed demonstrators who posed no imminent threat of death or serious injury," OHCHR reported.
"We have also received footage which appears to show security forces shooting unarmed demonstrators from behind while they were running away, and shooting others directly in the face and vital organs – in other words shooting to kill," Bachelet said.
Members of the Basij militia and Iran's Islamic Revolutionary Guard Corps (IRGC) were involved in shooting protesters, the OHCHR said.
At least 13 women and 12 children were among those killed.
Brutal crackdown continues
Security forces are still carrying out raids across Iran, arresting Iranians in homes and places of work, several sources independently told Amnesty International.
Children as young as 15 have been arrested and detained alongside adults, including at Fashafouyeh prison in Tehran Province, which is "notorious for torture and other ill-treatment", according to the organisation.
"Instead of continuing with this brutal campaign of repression, the Iranian authorities must immediately and unconditionally release all those who have been arbitrarily detained," Luther said.
Journalists, students and human rights defenders, including minority rights and labour rights activists, and members of ethnic minority groups, are being targeted for arbitrary arrest and detention.
At least two protesters told Amnesty International they fear for their lives and that many others are in a similar situation.
"I have been in hiding since I was seen and filmed by the security forces at the protests," one person said. "They beat me with a baton before I escaped. I am now in hiding with a serious leg injury."
"I am not safe because they have gone to my house to arrest me. My situation right now is no different from being in prison."
Another person said a family member who was arrested and released on bail emerged with bruises and cuts to his face and head and is so traumatised from his experience that he refuses to leave the house.
Roots of the economic problem
Iran has suffered a sharp economic downturn, with a plummeting currency sending inflation skyrocketing and driving up import prices.
While the protests stem from the petrol price increase, the scale of the unrest points to deep-rooted economic problems -- from the debt-ridden banking sector to the outsized and opaque role of military-linked organisations in the economy.
Many Iranians say the regime is exacerbating the economic woes of its own people by choosing to support proxy wars around the region instead of investing in its own country.
Much of the public outrage centres on the IRGC and on the high proportion of government expenditures going to IRGC proxy wars abroad, particularly in Syria, Iraq and Yemen.
Iranian President Hassan Rouhani on December 8 announced a "budget of resistance" backed by a $5 billion Russian "investment". The proposed budget is for the fiscal year starting in March.
The Iranian and Russian regimes have strengthened ties in recent years, with both backing President Bashar al-Assad in Syria's civil war.
The Kremlin often uses loans as a tool to manipulate weakened foreign governments and to insinuate itself in other countries to further Russian interests.
Estimates vary, but some figures suggest as much as 40% of Iranians -- more than 30 million citizens -- languish below the poverty line even as their government spends lives and treasure on costly foreign adventures.