TEHRAN -- In a threatening message published by state media, Iran's most powerful military branch, the Islamic Revolutionary Guard Corps (IRGC), said it will take "decisive" action against the growing protests across Iran.
A shock decision to impose petrol price hikes sparked the nationwide demonstrations in which officials say at least five people have been killed, including three security personnel on Tuesday (November 19).
The increasingly violent protests reportedly have spread to 100 cities.
Iranian Supreme Leader Ayatollah Ali Khamenei, in remarks by published by state media on Sunday, denounced protesters as "thugs" who he said were disrupting law and order.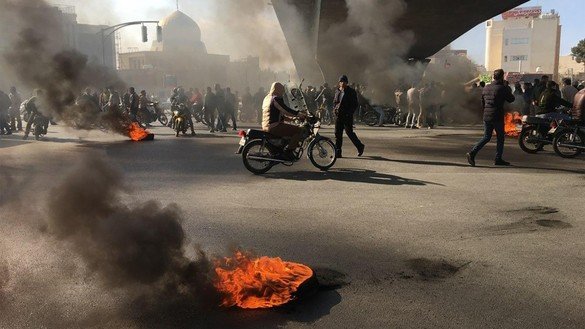 The situation in the streets remains unclear largely because of the government-imposed internet outage now in its third day.
The internet will be unblocked only when authorities are sure it will not be misused, said the regime Tuesday.
"The internet will come back gradually in some provinces where there are assurances the internet will not be abused," government spokesman Ali Rabiei said.
The outage has stemmed the flow of videos shared on social media of protests or associated acts of violence.
Internet connectivity in Iran was at 4% on Tuesday compared with normal levels, Netblocks, a website that monitors global internet shutdowns, said.
AFP journalists saw two petrol stations in Tehran gutted by fire and damage to infrastructure, including a police station.
But journalists were prevented from filming as hundreds of riot police guarded squares in the capital with armoured vehicles and water cannon.
The demonstrations erupted after it was announced the price of petrol would be raised by 50% for the first 60 litres purchased over a month and 200% for any extra fuel after that.
'Lethal force' against demonstrators
The United Nations rights office said Tuesday that it was "alarmed" by reports that live ammunition was used against protesters and had caused a "significant number of deaths across the country".
"Iranian media and a number of other sources suggest dozens of people may have been killed and many people injured during protests in at least eight different provinces, with over 1,000 protesters arrested," spokesman Rupert Colville told reporters in Geneva.
"We urge the Iranian authorities and security forces to avoid the use of force to disperse peaceful assemblies," he said.
Colville also called on protesters to demonstrate peacefully, "without resorting to physical violence or destruction of property".
The United States has condemned Iran for using "lethal force", with US Secretary of State Mike Pompeo tweeting "the United States is with you" in response to the demonstrations.
State television showed footage of rallies against "rioting" in Tabriz and in Shahr-e-Qods.
Footage of masked young men clashing with security forces has been broadcast on state television, which rarely shows any signs of dissent.
In a video aired Monday (November 18) night, a man can be seen firing what appears to be an assault rifle as others hurl stones apparently at security forces in Andimeshk.
Assailants wielding knives and machetes ambushed and killed three security personnel west of Tehran, the ISNA and Fars news agencies reported late Monday.
One of the three was identified as Morteza Ebrahimi, a commander in the IRGC.
The other two were Majid Sheikhi, 22, and Mostafa Rezaie, 33. Both served in the Basij militia, a volunteer force loyal to the establishment.
It is the worst violence since IRGC forces and their affiliated Basij militia violently suppressed the nationwide anti-government protests that began in late December 2017 and stretched into January 2018. At least 22 people were killed.
Roots of the economic problem
While the protests stem from the petrol price increase, the scale of the unrest points to deep-rooted economic problems -- from the debt-ridden banking sector to the outsized and opaque role of military-linked organisations in the economy.
Many Iranians say the regime is exacerbating the economic woes of its own people by choosing to support proxy wars around the region instead of investing in its own country.
Much of the public outrage centres on the IRGC and on the high proportion of government expenditures going to IRGC proxy wars abroad, particularly in Syria, Iraq and Yemen.
Estimates vary, but some figures suggest as much as 40% of Iranians -- more than 30 million citizens -- languish below the poverty line even as their government spends lives and treasure on costly foreign adventures.
With Iranians struggling at home, the government's funding of IRGC-backed militias abroad -- such as the Afghan Fatemiyoun Division and the Pakistani Zainabiyoun Brigade -- is increasingly unpopular.