TEHRAN -- Protests are continuing to pop up in various parts of Iran as citizens' dissatisfaction with the government continues to grow and as the economic situation continues to spiral downward.
Iranian police said Monday (July 20) they had arrested people behind protests that broke out last week in the southwest of the country, while Iran's Islamic Revolutionary Guard Corps (IRGC) said it had arrested a number of "agitators" who had called for street protests in Mashhad.
Iranian police said Friday (July 17) they forcibly dispersed a protest by a crowd chanting "norm-breaking" slogans in Khuzestan Province over economic hardships.
"Following a call, a small number of Behbahan city's people gathered at 9pm on Thursday [July 16] to protest the economic situation," Behbahan police chief Col. Mohammad Azizi said, quoted by state news agency IRNA.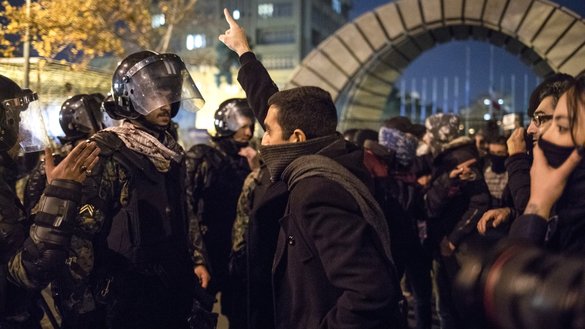 The police first tried to talk to the crowd, "but not only did they not disperse but started shouting norm-breaking chants," he said, a term usually used by Iranian authorities to refer to anti-system slogans.
He urged Iranians "not to be influenced by the system's enemies" aiming "to agitate the people in the current sensitive situation".
Social media posts showed images and videos of dozens of protesters apparently gathered on a street in Behbahan.
Internet access was restricted and disrupted for about three hours in Khuzestan around the time of the protest, said Netblocks, a site that monitors shutdowns.
Ignoring Iranians' concerns
The protests come days after Iran upheld death sentences for three men linked to deadly protests last November sparked by a hike in petrol prices.
However on Sunday (July 19), the regime buckled to public pressure and temporarily stayed the executions.
Numerous calls had spread online since the verdict was announced using the hashtag "DontExecute" for a halt to executions in the country.
The demonstrations in November broke out after authorities more than doubled fuel prices overnight, exacerbating economic hardships in a country already suffering from sanctions.
The demonstrations rocked several cities and turned violent before spreading to at least 100 urban centres across Iran.
Faced with an increasingly disaffected population and a tail-spinning economy, Supreme Leader Ayatollah Ali Khamenei in January delivered a sermon in Tehran for the first time since 2012 in an attempt to tamp down the unrest.
Days before, tens of thousands of Iranians took to the streets with protesters shouting, "Death to the dictator" -- a reference to Khamenei -- "Death to liars" and other anti-regime slogans.
Instead of addressing the core issues affecting Iranians, Khamenei repeatedly tried to redirect his speech toward the January 3 killing of IRGC Quds Force commander Maj. Gen. Qasem Soleimani in Baghdad.
Khamenei's attempts to regain support left many Iranians even more outraged.
Economy shrinking, unrest growing
The regime is exacerbating the economic problems of its own people by choosing to support proxy wars around the region -- particularly in Syria, Iraq and Yemen -- instead of investing in its own country, say many Iranians.
Iran's economy has shrunk significantly since 2018, when the United States withdrew from a landmark nuclear agreement and reimposed sanctions on Iran.
The COVID-19 coronavirus epidemic has exacerbated Iran's economic woes with a temporary shutdown of the economy and has reduced exports, leading to a sharp devaluation of its currency and rising inflation.
Thirty-five million Iranians could contract the coronavirus, President Hassan Rouhani said Saturday (July 18).
Iran's economy will shrink by 6% this year, predicts the International Monetary Fund.
Low voter turnout in recent elections reflects a wider malaise in a country long buckling under economic distress and more recently hit hard by the COVID-19 pandemic, spelling "a threat for everyone", Tehran Mayor Pirouz Hanachi told AFP July 7.
"The turnout at the ballot box is a sign of people's satisfaction level," he said.
Voter turnout hit a historic low of less than 43% in the February polls after thousands of reformist candidates were barred from running by the Islamic Republic's powerful Guardian Council.
Such voter fatigue "can be a threat for everyone, not just reformists or conservatives", warned Hanachi.